Market Correction Goes Undercover
Welcome to the churn…
Every dip gets bought. Every pop gets sold. Since the broad market clocked new highs again late last month, stocks have essentially gone nowhere.
Oh, and this is a good thing, by the way. Stocks probably won't challenge new highs again this week. But they're setting up perfectly for a solid year-end run…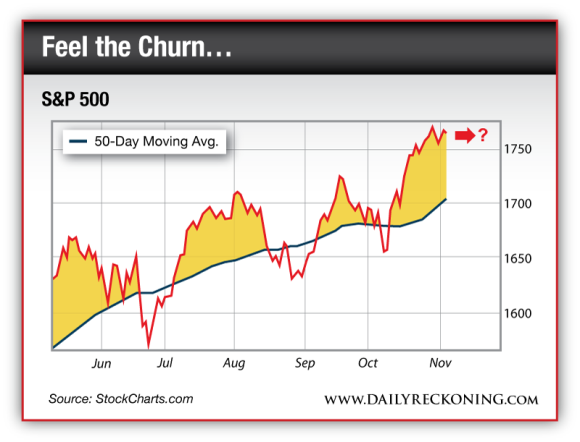 Think of this sideways action as an undercover correction. Just look at how far the S&P has extended from its 50-day moving average. It needs a rest at these levels—and there's no better way to accomplish this feat than a bunch of false moves higher and lower. Suck in some new shorts, burn some traders and reload.
Your best plan of attack right now is to keep it simple. Don't overthink your strategy. It might look tempting to short the crap out of the market over the next week or two. Don't do it. So far this year, investors and traders have bought every bearish move.
I told you yesterday we haven't seen the 2013 highs just yet. Plenty of stocks are setting up for higher prices as we hit the home stretch. Stick with what works and the market will reward you…
Regards,
Greg Guenthner
for The Daily Reckoning
Ed. Note: In addition to this quick rundown of the day's market moves, Greg offered readers of his Rude Awakening email edition 5 important numbers to keep in mind throughout the day, as well as one actionable trend that could make investors some incredible gains in the end-of-year run up. If you didn't get it, don't worry. You can sign up for FREE, right here, and start getting the more comprehensive Rude Awakening email edition sent straight to your inbox every morning before the opening bell.