36 and Counting: Markets Ready for End-of-Year Rally
Thirty-six trading days are all that remain in 2013.
According to the numbers, the market could rise by 4.5% or more before the final day of December.
So I have to ask…
Are you ready for the melt-up?
You've probably heard of the Turkey Day Rally and the Santa Claus Rally– or maybe a combination of the two. That's no coincidence. Historically, stocks kick it into high gear during the last two months of the year.
Here are the stats:
When the broad market is up 10% or more heading into November and December, the last two months of the year can get a little crazy…
So if history repeats itself this year, we're in for a good finish. Or maybe one that's much better than "good"…
"What I didn't realize was that good may be an understatement," reads a report from Avondale Asset Management. "The last two months of the year are generally great when the market has been up a lot already in the first ten months."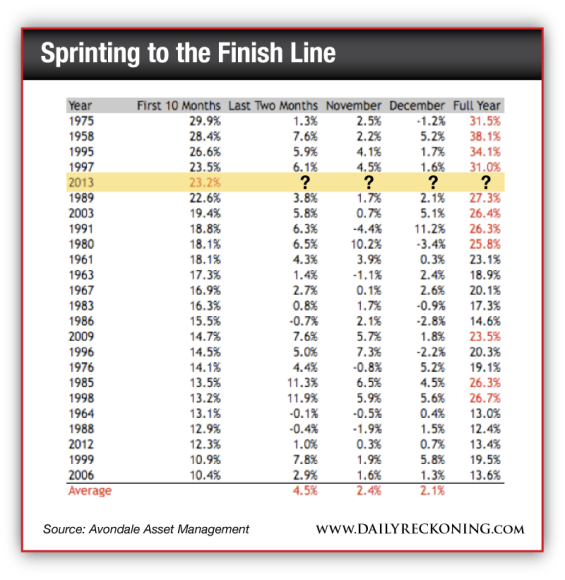 With just a handful of weeks left in the year, the current 10-month rally in the S&P is the 5th best of all time.
"On average the index has risen by another 4.5% over the final two months. Of the 24 times that this has happened, the index has only fallen in three years," Avondale reports. "On the other hand there have also been some monster finishes within the data. In 1985 and 1998 the index was up by more than 11% in the final two months."
Repeat after me:
I will not fear the year-end melt-up. We are in the midst of an historic rally. Dips are buying opportunities…
Regards,
Greg Guenthner
for The Daily Reckoning
Ed. Note: Every morning, Greg gives his Rude Awakening email readers a quick and honest rundown of the trading day ahead. It's straight and to the point, and includes 5 important numbers you'll need to know if you want to be successful in the markets. Don't miss another issue. Sign up for FREE, right here, and get tomorrow's sent straight to your inbox.