Stocks Fall Hard. Rally On Hold.
First, the broad market shot to new all-time highs.
Then the trouble started…
Yesterday's carnage was ominous. After two weeks of churning, stocks fell headfirst down a particularly steep staircase. Just a handful of names escaped without injury.
Here are the stats, courtesy of Bespoke Investment Group:
Just 2 Dow stocks finished the day in positive territory. Only 7 NASDAQ 100 stocks were up. And just 37 S&P 500 stocks squeaked out gains. That's brutal…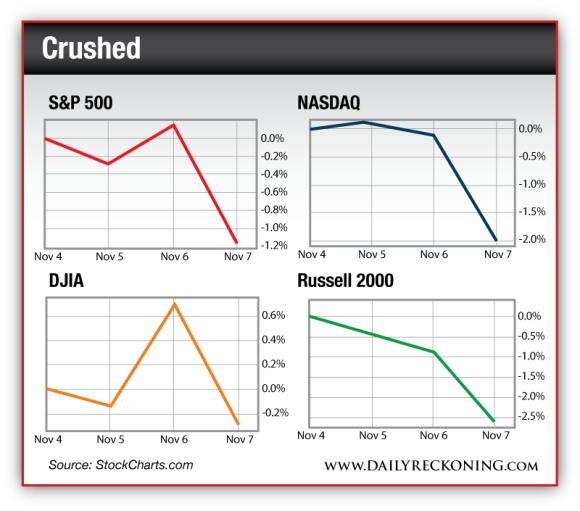 Sentiment turned on a dime yesterday. Sure, most stocks fell. But this year's big winners are getting absolutely crushed.
Look no further than the momentum names for proof — along with social media/internet stocks not named Twitter that had performed so well up until a few weeks ago. These stocks have been telegraphing trouble for the past couple of weeks.
You might have noticed a series of "pop and drops" in many of these Wall Street darlings after their respective earnings announcements. Netflix, Facebook and Zillow all rushed higher after hours or right at the open following earnings reports. That's when the selling started. Then there's Tesla, which continues to fall in pre-market trading early this morning. Almost every single popular stock is taking it on the chin this week…
Here's where we stand now…
I said social media and internet stocks would be the big winners during the fourth quarter.
Wrong.
I also said that the market would probably churn sideways for the next few weeks to set up the end-of-year rally. Nope…
My concern isn't about getting it wrong. Being wrong is part of the game — it happens all the time. We reassess, adjust our strategy and move forward. That's how trading works.
But if these momentum stocks continue to drop, we could be in for a rocky few weeks. The melt-up is postponed for now…
Regards,
Greg Guenthner
for The Daily Reckoning
Ed. Note: There's still plenty of trading left to be done this year. And with wild swings yet to come, it's imperative that you see the markets from every angle. Sign up for the FREE Rude Awakening email edition, right here, and get the facts before the opening bell every morning.