Ma and Pa Run With the Bulls
The individual investor is back. And he's too damn bullish, according to about 5,000 reports I stumbled upon over the weekend.
In fact, the "everyone's too bullish" theme is boiling over into the workweek.
"Stocks Regain Broad Appeal" reads the headline splashed across the front page of The Wall Street Journal this morning…
Of course, stories like this one are filled with quotes from Ma and Pa Investor who just received their third quarter statements in the mail. After sleepwalking through the first four years of this market rally, they're finally ready to buy in now that they see those always-elusive market gains coming back to life.
Let's check the stats to find out just where the super-bulls stand:
"A particularly worrisome [measure] is the Investors Intelligence gauge of adviser sentiment. Its last reading showed that 55.2% of respondents were bullish and just 15.6% bearish, tying the highest difference between the two this year," reads yet another WSJ report. "The last time the gap was bigger was April 8, 2011, which preceded the sharpest stock-market correction of the current bull market."
Yikes.
On the other hand, there's also evidence that investors are getting cautious as the broad market reaches toward new highs.
According to Bank of America Merrill Lynch Global Research, investors pulled $7.5 billion from U.S. equity funds last week. Financial and tech names lost the most coin as investors fled to money market funds…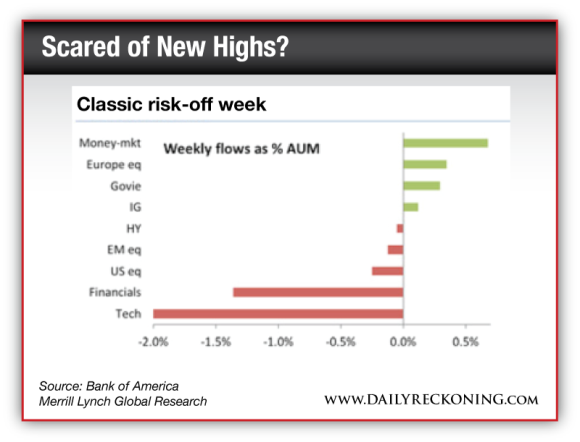 While more investors are embracing the stock market as this year's historic rally continues to unfold, there's still a healthy amount of fear out there.
Yes, our end-of-year momentum rally was put on hold late last week. But strong buying Friday proves we're still in a "buy the dips" market for now. Sentiment extremes could continue to rattle the market as we head into the final stretch of 2013. But until price breaks down, the benefit of the doubt belongs to the rally…
Regards,
Greg Guenthner
for The Daily Reckoning
Ed. Note: No one truly knows how this rally will end. But rest assured it will end, and when it does, you'll want to be ahead of the game. Greg Guenthner can help. His Rude Awakening email edition goes out to over 250,000 readers every morning before the opening bell. It's designed to give you have the ammunition you need to trade that day's trends. Don't just follow the herd. Get right out in front, and make the kind of trend-setting gains others can only hope for. Sign up for the Rude Awakening email edition, right here.