531 Trading Days Without an Incident
The S&P 500 has gone 531 trading days without a 10% decline. Therefore, a correction has to be waiting in the shadows, ready to gut trading accounts and scare away the money that found its way back into stocks so far this year…
Or maybe not.
Let's can the speculation and check the facts.
Aside from last week's two big back-and-forth swings, the broad market has remained locked in a tight trading range for nearly three weeks.
We got the churn I was looking for — albeit with a shake-out in the middle. Stocks have hit the pause button to help digest their October gains.
Still, many investors are freaked out right now. The broad market is coming up on the one year anniversary of its big push higher — and plenty of talk about an imminent correction has flooded financial news stories.
But the market's big run isn't unprecedented. And it doesn't necessarily mean a pullback is near, David Rosenberg of Gluskin Sheff & Associates reminded The Wall Street Journal.
His evidence?
Well, first of all, the 2003-2007 bull market made it four years without a 10% pullback. And if you look back another decade, there weren't any 10% drops from October 1990 through 1997. That's 1,767 trading days, in case you're keeping track.
Under the surface, the action has also remained healthy. The number of stocks above their 50-day moving averages remains elevated without creeping into extreme territory…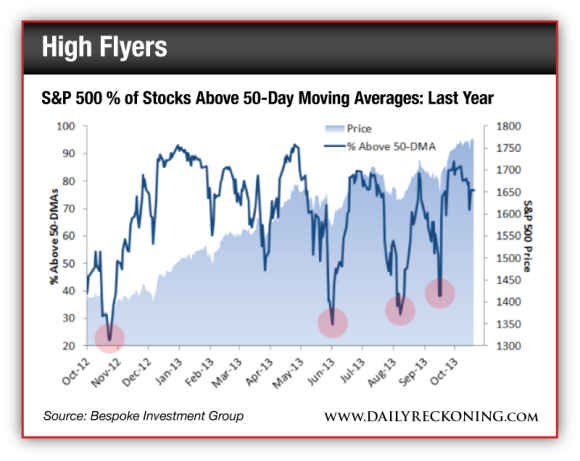 "We haven't had a blowout reading above 90% in more than six months," reports Bespoke Investment Group. "Since June, the reading has peaked out in the mid-80s three times before eventually pulling back. On the pullbacks, the percentage of stocks above their 50-days bottomed out at a higher level than the time before. This means we've seen a series of higher lows in breadth when the market has gone through periods of decline this year."
The broad market looks like it will open lower today. Try not to get too spooked by the back-and-forth action this week. The trend is still your friend…
Regards,
Greg Guenthner
for The Daily Reckoning
P.S. This morning, I sent my Rude Awakening readers an email with 5 specific numbers to watch throughout the day and one important prediction about how a certain yellow metal will end the year. If you didn't get it, you might have missed out. Don't let another issue pass you by. Sign up for The Rude Awakening (for FREE) right here, and make sure you get tomorrow's important market news before anyone else.