3 Potholes in the End-of-Year Rally
If you've ignored the whines of the top-calling bears this year, you've done very well for yourself.
Stocks are working. We saw more new highs again yesterday. Momentum has swung in favor of the illusive end-of-year rally I've been yammering about since last month. All is right with the world.
Or is it?
Today, I'm going to show you what's not working. While the broad market has been kind to you, there are still a few nooks and crannies in this market that you must avoid.
Let's tackle the market's awful, ugly and downright terrible investments in three charts. First up are emerging markets…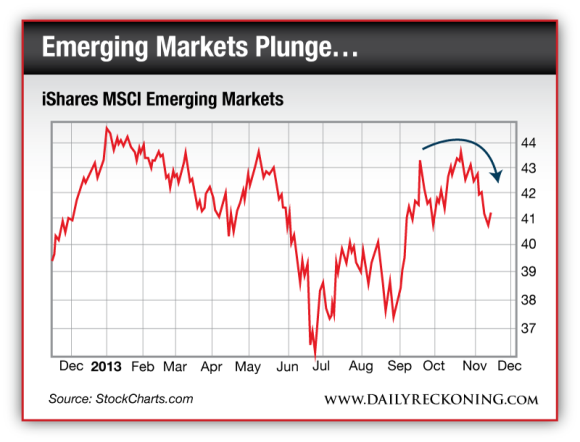 2013 has not been kind to emerging markets. After bottoming out in July and attempting a late-summer rally, these names are rolling over yet again. The iShares Emerging Markets ETF is down more than 6.5% year-to-date, while the S&P 500 is up more than 25%.
There's no reason to take a chance on any of the emerging markets right now. They all have room to drop even further…
Next up is one of this year's big winners: small-caps.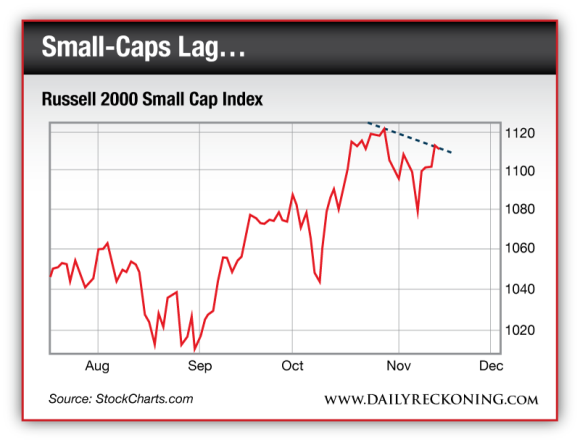 Small stocks have been a great trade so far this year. But they're starting to fall behind the broad market. While the major indexes were all posting new highs this week, the Russell 2000 failed to top its October highs.
While I think you should avoid broad investment in the small-cap sector right now, I still see plenty of individual names that could continue to dominate the market.
Last (and least) is gold…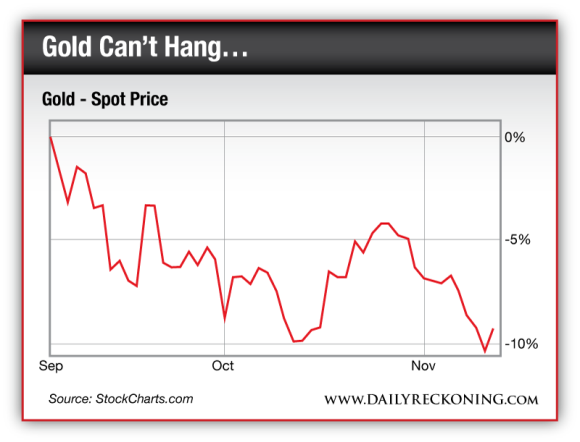 Gold tried to get something started in October with a quick jump from $1,260 to $1,360. But the big move never materialized, sellers swooped in and we're back near the lows. The spot price has dropped more than 9% since Sept. 1.
Now's not the time to be a buyer…
Regards,
Greg Guenthner
for The Daily Reckoning
Ed. Note: In every type of market there will be winners and there will be losers. Greg can help you discover some of the winners. Every morning he sends his Rude Awakening readers an important message that includes a rundown of the day's likely moves, 5 specific numbers to watch and at least 3 chances to discover real, actionable investment opportunities. Start your morning off right. Sign up for The Rude Awakening, for FREE, right here. (Don't worry… You can cancel any time and there is never any obligation.)