Winning Trends in the One-Year-Old Rally
You can't outsmart the market.
Go ahead — try all you want. Buy up whatever's getting clobbered right now and call me in a few months. Chances are, it'll probably be down even more.
As of today, this furious market rally turns one year old. Stocks have climbed through a fiscal cliff, eurozone scares, sequesters and shutdowns (and more) without batting an eye. The Wall of Worry was a steep one. But if you followed the trend and ignored the noise, you had the chance to enjoy one hell of ride…
On Friday, I showed you three areas of the market I don't want to trade on the long-side right now (emerging markets, gold and broad-based small-cap investments).
Today, I'm going to show you what's worked…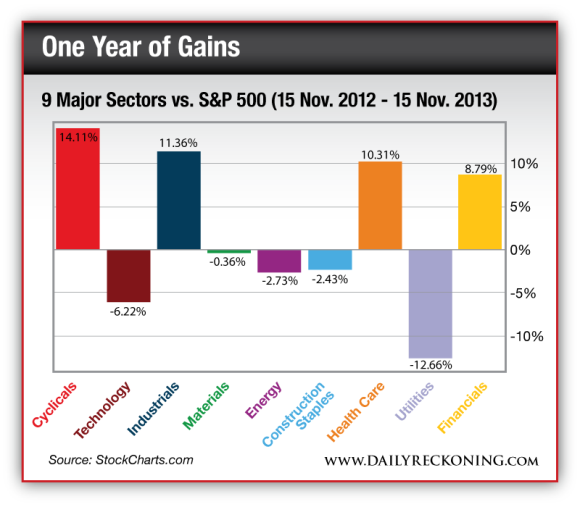 Here are the market's nine major sectors and how they've stacked up against the S&P 500 since November 2012.
Utilities have gotten clobbered. The tech sector as a whole has underperformed — even though a handful of the best tech stocks have done very well this year.
On the winning side, we have four major standouts. Cyclical stocks (these are the consumer discretionary names like restaurants, entertainment stocks, etc.), industrials, health care and financials have all been big winners.
As you plan your market strategy heading into 2014, these four performers should be at the top of your list. This market is offering gains to investors who buy strength on the dips. That should be your top priority into this melt-up as the holidays approach…
Regards,
Greg Guenthner
for The Daily Reckoning
Ed Note: While you can't hope to outsmart the market, you can learn ways to better tackle whatever the market throws at you. That's where Greg's Rude Awakening comes in… Every morning, he gives his Rude email readers a quick and dirty rundown of the day ahead, including 5 specific numbers to watch and at least 3 chances at real actionable investment opportunities. Sign up for FREE, right here.