Better Than Average: 2 Choices in Every Bull Market
During a bull market, you have two choices…
You can dump your money into an index fund and settle for whatever gains the broad market can muster…
Or, you can strategically follow the best performing groups and sectors to maximize your profits.
I'm sure you can easily guess which method I'm advocating. After all, the averages are just that: average. Sure, a round number like "S&P 1,800" is great fodder for financial headlines. But it falls woefully short when it comes to measuring the best and worst performers on the market.
Dig just a little deeper and you'll see what stocks are working right now — and which ones might be due for a substantial correction.
Earlier this year, the Dow lost its footing while small-caps posted a string of new highs. But now, we're seeing the beginning of rotation out of small-cap names…
"Small stocks have been a great trade so far this year," I wrote last Friday morning. "But they're starting to fall behind the broad market. While the major indexes were all posting new highs this week, the Russell 2000 failed to top its October highs."
After a couple of days of downside action in the Russell this week, we appear to have a lower high shaping up this month. That's not exactly bullish…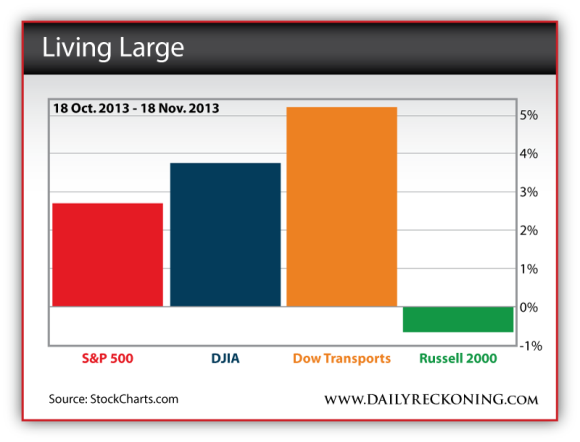 Over the past 30 days, the S&P and Dow Industrials have both outperformed the Russell 2000 by a wide margin. Even more telling is the continued bullish action in the Dow Transports while the Russell stumbled. These two indexes had consistently been among the first groups to sprint higher after every market pullback this year. But lately, the transports are going it alone…
Evidence is mounting in favor of continued weakness in small-caps. On the flip side, I'm seeing plenty of bigger stocks setting up for breakout moves. Watch carefully for continued rotation — and adjust your trade accordingly.
Regards,
Greg Guenthner
for The Daily Reckoning
Ed. Note: Greg is closely eyeing where the next breakout moves will come from, and shares his thoughts each morning with his Rude Awakening subscribers. If you're getting the Rude Awakening, you can sign up for free right here.