Crashing Giants: Bad News for the Market's Big Winners
If you're trying to ride the market's biggest winners this week, you're probably not too happy with the results.
Almost every stock that has wowed investors so far this year is getting shellacked. Solar stocks, 3-D printers, internet stocks — you name it, it's down. Bespoke Investment Group has quantified the carnage in the Russell 1000 (the Russell 2000's large-cap cousin).
According to Bespoke, the 100 stocks in the Russell 2000 that were up the most in 2013 coming into this week are down an average of 2.47% over the last three days…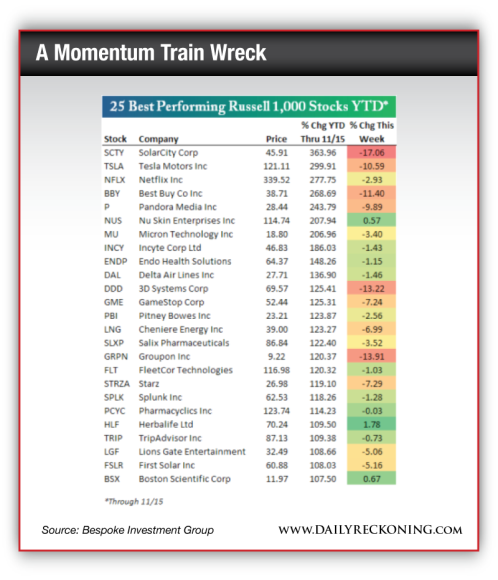 "The 25 biggest winners in the Russell 1,000 coming into this week are down even more," Bespoke reports. "Through Friday, [these stocks] were up an average of 164% year-to-date, but they have fallen an average of 5% so far this week. Big winners like SolarCity (SCTY), Tesla (TSLA), Best Buy (BBY), 3D Systems (DDD) and Groupon (GRPN) are all down more than 10%. When these high-flyers stop going up, they sure fall fast!"
The panicked profit-taking we're seeing here isn't the end of the world. In fact, it fits in with the rotation theme we've discussed this week. With continued weakness in small-caps and momentum names, investors are going to have to look elsewhere for gains for the time being. But like I said yesterday, I'm seeing plenty of forgotten large-caps setting up for decent trades.
The most important thing you do right now is take profits if any of your momentum trades have taken a big hit. Now's not the time to get stubborn. Take your medicine and shift focus to other potentially profitable setups…
Regards,
Greg Guenthner
for The Daily Reckoning
Ed. Note: In today's markets, agility is key. As Greg explains, don't be afraid to take profits when you can. But how do you know which ones? The Rude Awakening email edition gives you a few tips. Sign up for FREE, right here.