Yellow Metal Fever
Gold futures are getting uglier by the day…
And the weakness you're seeing in the yellow metal isn't over just yet.
Gold is sick. Every single recovery since the initial dump below $1,550 seven months ago was met with more selling. Failing to hold $1,350 last month let the air out of any potential comeback heading into 2014. The downtrend remains intact.
If gold continues to push lower in the coming weeks, we could very well see it break below the June lows before the year is up…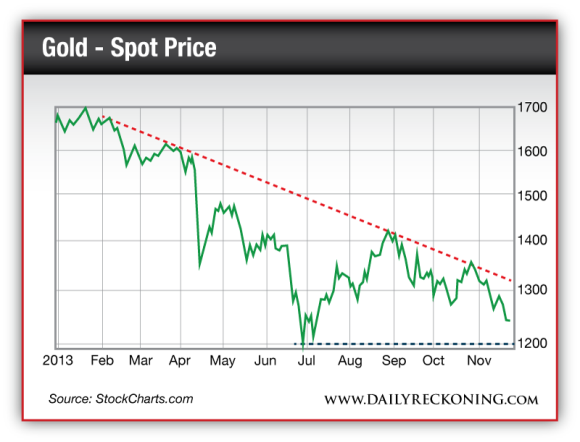 The losses are beginning to mount. Gold just recorded its biggest weekly slide since September. As of early this morning, gold futures are just $32 away from critical support at $1,200.
Late last week, I told you the real danger zone for gold is $1,200 — not the actual lows registered near$1,179 in June. That's because there were only two days in late June where gold dipped below round-number support. Each time it slipped into the $1,100's, buyers stepped in before the close. That helped spark a 2-month rally that shot gold futures from $1,200 to $1,420. But that move stalled out — leading to this next leg lower…
You have to stay away from any gold trades on the long side for the time being. These big downdrafts are quick and relentless. Futures are in free-fall — and gold miners are looking even worse. Prepare for gold to eventually sink closer to $1,000 as this downtrend plays out.
Looking ahead, $1,200 could become a battle ground in the coming weeks. If gold fails at support, we'll probably see another big move lower. Don't try to pick bottoms here. That'll only lead to unnecessary pain and suffering for your brokerage account.
Regards,
Greg Guenthner
for The Daily Reckoning
P.S. For more insight and guidance on gold and other markets at large, sign up for my free Rude Awakening email edition, right here.