A Sad and Disappointing Tech Bubble
If we are indeed smack in the middle of another tech bubble, it is the most disappointing non-event in the history of the stock market.
While the pundits and the financial media rant and rave about out-of-control tech and social media stocks, all I see is ugly price action belonging to the once-popular internet companies. The averages are screaming to new highs as Thanksgiving approaches. But these "bubble stocks" are sucking wind…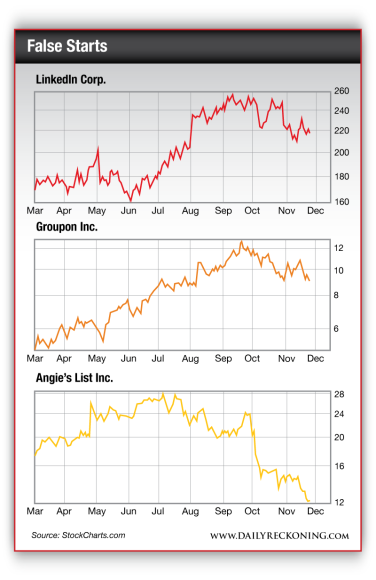 There's nothing to like about these charts today. Stocks like LinkedIn and Groupon look like they're about to roll over. Meanwhile, Angie's List is in the gutter. Also, note how each of these stocks peaked in September or earlier. Sure, yesterday was not kind to the internet names. But this action has persisted for some time now. These stocks just can't catch a bid…
I've talked at length about how the market has shunned stocks like these (that I initially thought would easily outperform this quarter). By rotating into the large-cap stocks that have shown relative strength this month, you've had the chance to avoid these underperformers.
Of course, I don't think these stocks are all going to zero. They aren't going away anytime soon. But now is not the time to play a potential bounce. Expect more downside action in these names — not matter what happens in the broad market in the coming weeks…
Regards,
Greg Guenthner
for The Daily Reckoning
Ed. Note: This morning, Greg went a few steps further on this topic with his Rude Awakening email readers – giving them 5 specific numbers to watch as the day progressed and 4 specific chances to discover actionable plays in the process. If you didn't get it, you only got half the story. Sign up for FREE, right here, and start getting the whole thing