3 Down Days the Beginning of a Bigger Trend
Hold on tight…
The broad market has now posted losses for three days in a row. This dip must be the beginning of the big correction everyone's carried on about over the past few months…
Or not.
The market can't drop a single point these days without sparking dozens of hysterical reports about an impending correction. Last night, an article by the Associated Press already chalked this week up to a loss, declaring that Monday and Tuesday trading is "putting at risk a remarkable rally that has sent indexes to record highs."
Aside from all the taper talk, one of the more puzzling concerns popping up this week is consumer spending and the very recent poor performing consumer stocks. But any concerns regarding consumer spending right now fail to note the bigger picture. After five years of squishy spending, the American consumer is finally coming back to life.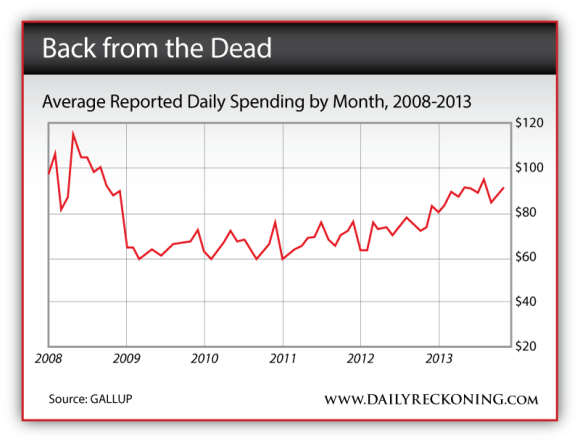 This year's recovery could be the beginning of an even larger trend. Turning to a more useful analysis of Americans' spending habits, Bloomberg reports that the average age of consumer durable goods like furniture and appliances is at its highest mark since 1962. That's nutty…
"Replacement purchases, overdue after the worst recession since the Great Depression, would boost the consumer spending that accounts for 70 percent of the economy," Bloomberg says. "Automobile sales are headed for their best year since 2007, showing Americans have the financial security to buy more expensive items, and economists say that means household-goods sales will pick up."
You can't allow the hysteria prompted by a few days of sluggish action in an overbought market to interfere with your trading decisions. Seasonality and the trend are on our side. We haven't seen the top just yet…
Regards,
Greg Guenthner
for The Daily Reckoning
Ed. Note: If you're wondering how the end of the year will play out for the markets, you need an honest, unfiltered view of what's going on. Greg Guenthner gives that to his Rude Awakening email readers ever single morning – including 5 numbers to watch throughout the day and no less than 3 chances to discover real, actionable stock picks. If you haven't read the email edition yet, you can sign up for FREE right here.