The Most Important Gold Chart in the World
Ever since gold broke below critical support back in April, you've been inundated with statistics, price targets and countless charts. There's certainly no shortage of gold analysis these days.
But today, I want you to forget everything you've read about gold over the past eight months. Forget about production statistics, inflation guesses, or jewelry demand in Asia. Heck you can even discard the annotations on every other gold chart you've seen this year…
The most important gold chart in the world right now is the long-term look at the Dow/gold ratio– the Dow Jones Industrial Average priced in gold.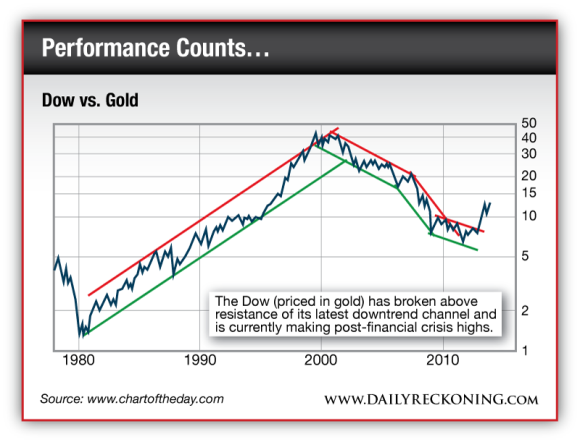 Today, it will cost you about 13 ounces of gold to buy the Dow. That's a long way off the almost 45-ounce price tag on the Dow back in 1999…
This chart goes back far enough to see the very end of the massive gold spike in 1980, followed by the Dow regaining its footing before beginning a 20-year run. It's pretty obvious what happens when the Dow finally breaks higher after years of decline versus the yellow metal.
"Priced in gold, the Dow had been in a massive 13-year bear market," explain the analysts over at Chart of the Day. "However, back in the summer of 2011, gold peaked while the Dow continued to rally. While the Dow (priced in gold) is currently well-off its dot-com record highs, it has been surging as of late. The current rally has resulted in a break above resistance of its latest downtrend channel as well as new post-financial crisis highs."
What we're seeing right now is a massive performance shift. After more than a decade in the driver's seat, gold is giving up ground to stocks.
A change in trend is brewing. Don't get caught on the wrong side of the market…
Regards,
Greg Guenthner
for The Daily Reckoning
Ed. Note: To make sure you never end up on the wrong side of the market, as Greg suggests, sign up for the FREE Rude Awakening email edition, right here. It's jam-packed with some of the most in-depth analysis you're likely to find, including 5 "Rude Numbers" to watch as this end-of-year rally progresses. Don't wait. Sign up for FREE, right here.