The Best Way to Make Gains in 2014
You don't need to know exactly how the market will perform next year to make money.
Unless you own a time machine, there's no way to accurately predict where the broad market will land on December 31, 2014. Just look at the predictions made every year by the big-name analysts. Inevitably, these numbers must be scrapped or revised before spring…
Of course, you won't be able to book consistent gains off most of these big picture predictions. When it comes to trading, you have to view the market week by week, month by month—and adjust accordingly.
But that doesn't mean you shouldn't have game plan heading into a new trading year. With that in mind, here's what we're working with heading into the final trading weeks of the year…
Barring an unprecedented meltdown, 2013 will go down as one of the best years ever for the S&P 500.
After Friday's surge, the S&P is up an incredible 28% on the year. As you already know, we're smack in the middle of the market's sweet spot. December is historically a strong month. It wouldn't surprise me if we saw continued upside action into the New Year…
But what does this all mean for 2014? Can stocks keep chugging higher after this year's historic performance?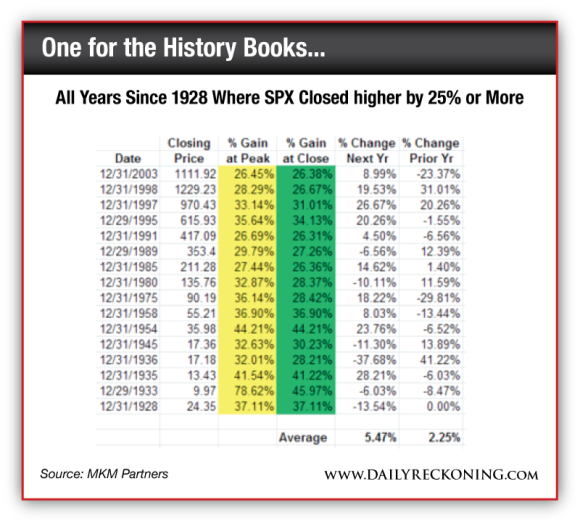 You might think that after a huge year, the S&P is at a much higher risk of an abrupt correction. But that's not what the numbers tell us…
"Overall, following an up 25% year, the following year is higher 66% of the time, for an average move of +5.47%," explains MKM Partners senior technical analyst Jonathan Krinsky.
We'll use this historical performance to begin to shape our 2014 trading view. While you probably shouldn't expect another massive run higher, the strong performance we're experiencing right now could very well carry over into the earlier part of the year, setting up the market for modest gains as the year progresses. Don't bust out those crash helmets just yet…
Regards,
Greg Guenthner
for The Daily Reckoning
Ed. Note: To get a serious leg-up in the markets, follow Greg's lead every morning in his Rude Awakening email edition. It gets sent straight to your inbox and comes complete with 5 "Rude Numbers" to watch throughout the day, not to mention 3 specific chances to discover real, actionable investment plays. So don't wait. Sign up for FREE, right here.