The "Taper Trend" is Your Friend
The dreaded Fed taper is changing the way investors approach the market.
Well, not the taper itself, of course. That hasn't happened yet. But the investment community's fears over the taper, its timing, and impact on the markets have actually slowed the flow of money into long-term investment funds over the past six months.
You can profit from the "taper trend" by staying long equities heading into the New Year. It's that simple…
What we're seeing is the potential for a perfect storm of short-covering and reallocation heading into 2014. This "taper trend" could easily become extra fuel for an equity market that is about to register one of its best yearly performances ever…
"Since May, taper fears have caused bond outflows while equity inflows continued," reads a Deutsche Bank note (via Business Insider). "But the net of the two is zero. With no long-term inflows, $139 billion has piled up in money markets."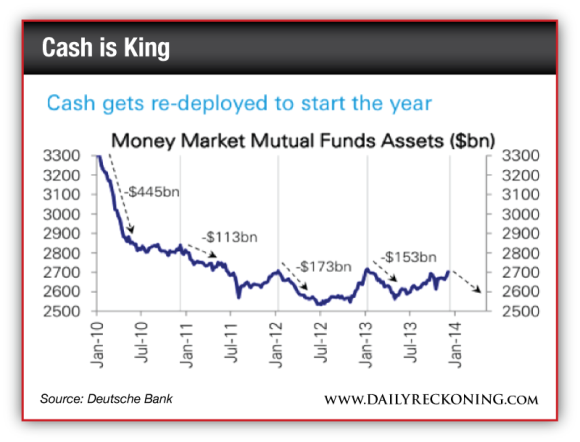 "Many equity investors are worried given the 27% rally YTD, but we estimate that an incremental $169 billion in pent-up cash and short interest due to taper fears is likely to make its way into equities in the next 3-4 months," Deutsche Bank continues. "Indeed, the [first-half-of-the-year] pattern since 2009 has seen cash move out of money markets and into bonds and equities."
Investors are heavily hedged with short positions. And too much money is on the sidelines right now. When the calendar rolls over to January we could see another huge month for stocks (much like we experienced in 2012 and 2013). Don't over-think it — or you might miss out on another epic rally…
Regards,
Greg Guenthner
for The Daily Reckoning
P.S. The "taper trend" is just one pattern I'm keeping my eye on as 2013 comes to a close. There are several other interesting movements to be aware of, and this morning I gave readers of my Rude Awakening email edition a quick rundown on what they are — including 5 specific numbers to look out for and 3 chances to discover real, actionable investment opportunities. If you're not getting the Rude Awakening email edition, you're only getting half the story. So don't wait. Sign up for FREE, right here.