The One Metal Worth Buying in 2014
The list of finalists in the running for "worst performing asset of the year" is topped by gold, silver and the companies that mine them.
No, 2013 was not kind to precious metals. Gold's down more than 26%. Miners are off by more than 52%. It's a bloodbath, to say the least…
However, not all precious metals have both feet in the gutter. In fact, there's one metal we've been tracking that looks like it is setting up for a strong 2014.
I'm talking about palladium. It's useful (palladium is a key component in catalytic converters for the auto industry). And even more importantly, this forgotten precious metal has bucked the downtrend that's punished gold and silver for the past eight months.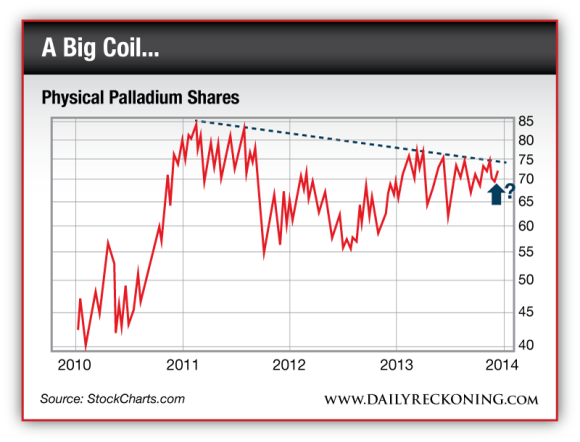 Palladium's spot price is up nearly 6% so far this year. That's still underperforming the S&P by a couple of miles. But palladium is holding its own as gold pushes toward its lows. And the Physical Palladium Shares ETF (NYSE:PALL) is setting up for a potential breakout year. A pop above $75 could send this name much higher this winter.
Of course, the demand picture is playing a role in the metal's recent strength.
"Further development in the world economy and increasing global liquidity could boost demand for industrial metals copper, lead, platinum and palladium," explains the Rude's own Noah Sugarman. "According to ETF Strategy, significant 2014 tailwinds could come in the form of a sizable supply deficit and increasing U.S/Chinese demand. These fundamental factors may impact Palladium's price action in a big way."
Regards,
Greg Guenthner
for The Daily Reckoning
P.S. PALL isn't the only way to grab gains during Palladium's impending run. My colleague and resource guru, Byron King, is tracking another solid option and I gave readers of my Rude Awakening email edition a unique chance to discover it for themselves. Didn't get today's Rude Awakening? Don't worry. Tomorrow's issue is just around the corner. And I assure you that it will include another opportunity just like this one. No less than 3 such opportunities in fact. So don't wait. Sign up for the FREE Rude Awakening email edition, right here.