The Best Reason to Ignore "Expert" Market Predictions
Wall Street has no idea what's happening…
The experts' predictions were way off this year. No one was expecting big gains from the major averages. But of course, that won't stop them from laying out their guesses for next year…
"Why do forecasters keep forecasting?" laments Barry Ritholtz over at Bloomberg View. "All of your favorite prognosticators will soon be trotting out their favorite (albeit worthless) prognostications. You are advised to ignore them with extreme prejudice."
Need a good reason to tune out the guesses? Well, the average 2013 S&P target will probably miss the mark by more than 17%. These guys missed one hell of a rally…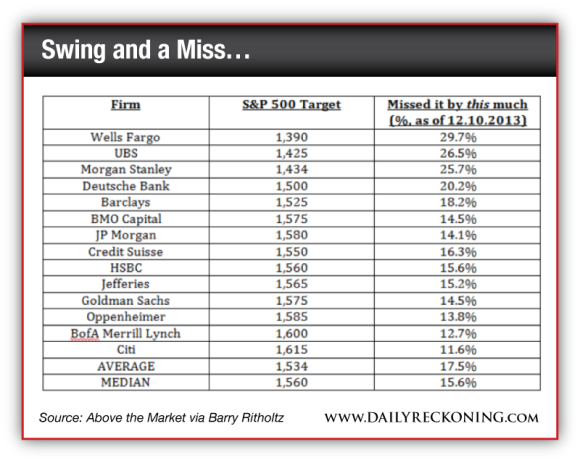 Here's the thing about market predictions:
They don't really help you make money.
The cycle is the same every year. Analysts put out a target. A few months into the year, they revise their predictions — then they revise them again.
It's impossible to accurately predict where the market will rest on December 31, 2014. Instead of getting all worked up over high-profile guesses, you have to learn how to use bigger picture predictions as a guidepost.
I'll continue to work on our big market guesses for 2014. And we can use the ideas as a rough guide to our trading in the New Year. But if circumstances change, we must act. That's the only way to tame the markets and bring home consistent gains…
"It is a mistake to look too far ahead," Winston Churchill reminds us. "The chain of destiny can only be grasped one link at a time."
Regards,
Greg Guenthner
for The Daily Reckoning
Ed. Note: One day at a time. That's never a bad way to approach the markets. And since anything can happen on any given trading day, The Rude Awakening is sent every single weekday morning, to help you make sense of the day ahead. It's sent straight to your email inbox, complete with a quick and dirty rundown of the current trading sentiment, 5 specific numbers to look out for, and 3 chances to discover real, actionable stock picks. And it's all 100% free. Don't miss another issue. Sign up for the FREE Rude Awakening email edition, right here.