Market Update: Get in Ahead of the "January Rush"
For the first time in years, investors are generating positive returns.
Now, we're just a few weeks away from the January rush back into equities. Your neighbor will soon wise-up to the market's outsized returns. It's time for you to beat him to the punchbowl…
While many analysts and financial media reports continue to lean on bubble chatter and taper talk, stocks are entering what is historically the strongest part of the year. With every tick higher, we hear even more protests from investors who have been absolutely crushed since the secular bear market took hold more than a decade ago.
But the market's landscape is quickly changing before our very eyes…
"The S&P 500′s rolling 10-year returns have recently turned up from a secular low," says Jason Trennert, founder of Strategas Research Partners . "This trend is supposed to smooth out some of the volatility and offer a big-picture look at the market from a longer time horizon. If anything, this chart shows stocks remain far from bubble territory."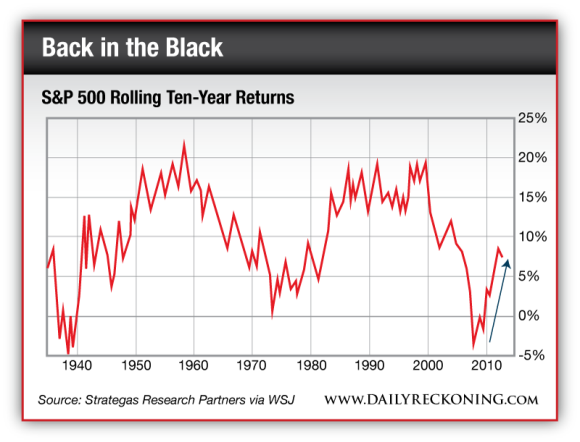 No wonder many pundits have declared the past several years to be the most hated rally in the history of the stock market. By the time the financial crisis hit in 2008, investors had the pleasure of enjoying the worst rolling 10-year returns since the Great Depression. That's enough to sideline even the most optimistic investor for a long, long time…
Of course, reluctant market-watchers won't stay on the sidelines forever. When the general public begins to catch on that the market is roaring higher, they'll want in on the action. Don't be shocked to see a flood of new money pouring into stock funds in early January…
Regards,
Greg Guenthner
for The Daily Reckoning
P.S. While mom and pop investors haven't yet entered the market in droves, this rally has certainly piqued their interest. And when that interest turns to action, you'll definitely want to know where to position your own investments. Keep watching this space as the story unfolds, and to get the most up-to-the minute advice on what to do, sign up for my FREE Rude Awakening email edition.