The Best Companies You Haven't Heard of for 2014
High-profile tech IPOs have dominated the pipeline over the past few years. However, 2014 might bring about new, undercover tech offerings that could quietly take over the market.
More on this idea in just a second. First, let's take a look at the two big offerings that monopolized the headlines over the past two years…
In 2012, we had the Facebook debacle. Investors squealed that greedy underwriters had peddled the stock at ridiculous prices after the offering opened near $40 and fell below $20 by the end of the summer (well, $40 looks cheap now that the stock has recovered and is trading above $53).
Just a few weeks ago, Twitter arrived on the market. This time around, investors squealed that they didn't buy enough shares as the stock nears $60 after opening near $45 last month.
But in 2014, all the squealing will be about a bunch of companies you probably know nothing about…
"Internet companies make up over half of the 2014 Tech IPO Pipeline, followed by mobile & telecom companies," reports CBinsights. "And both have seen significant growth in their share of the pipeline. There are currently 320 Internet companies on the Tech IPO Pipeline, an increase of 39% from last year's list."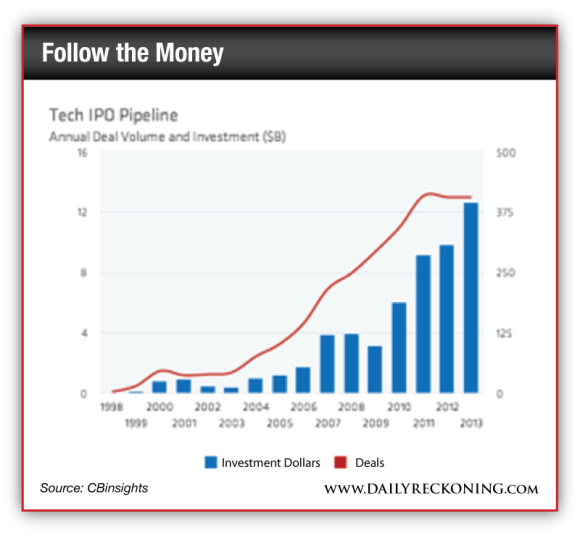 "Unlike the string of highly-anticipated company debuts that began back in 2011, 2014 could be dominated by lesser known tech names that primarily service businesses rather than consumers," explains Rude researcher Noah Sugarman.
"Now's the time to keep your eye on the ball," Noah continues. " Many of the names that could hit the market in 2014 will go unrecognized by Main-Street – and they could even slip underneath Wall Street's nose, too."
We'll keep a close eye on the pipeline heading into 2014. In just a few short months, you could have the chance to take a bite out of some compelling new stocks…
Regards,
Greg Guenthner
for The Daily Reckoning
Ed. Note: In today's Rude Awakening email edition, Greg gave readers a chance to learn more about some of these coming stocks, and how to position themselves ahead of the crowd. Don't get left out of this and other great investment opportunities. Sign up for the FREE, Rude Awakening email edition, right here.