The King Kong of Energy Technologies
[This article originally appeared in Tomorrow in Review on November 14, 2013]
A couple weeks ago, we started our series on the future of energy.
We talked fusion, solar, bioenergy, and wind and wave technologies, choosing latent sources of what's already available and waiting to be made accessible.
Today, our review of the future brings us back around to an investment idea closer to the present. With a whole new twist.
Energy Source No. 6: LNG From Cities in the Ocean
Unless — and even if — you've been living under a rock, you should know all about the big energy revolution in North America. Courtesy of new technology, groundbreaking profits are being remade from old drill sites. Yes, you've heard this story before…
But have you seen it like this?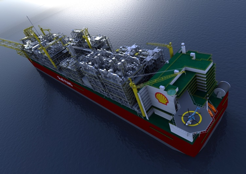 Credit: Shell
Six times the size of a U.S. aircraft carrier
Energy giant Shell (NYSE: RDS-B) is in its final stages of completing the largest offshore floating facility ever built: the world's first floating liquid natural gas (LNG) tanker.
And just so you get a sense of scale for how big that is… check it out in comparison to some of the world's tallest buildings…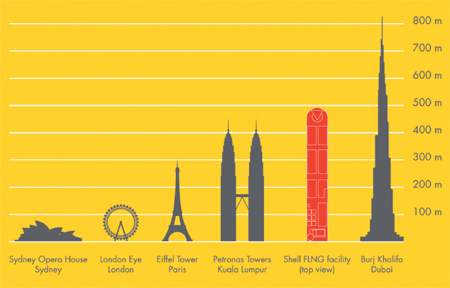 Credit: Shell
Other energy giants aren't too far behind with similar plans for FLNG tankers of their own.These companies include ConocoPhillips, France-based GDF Suez and Malaysian national oil company Petronas.
Shell, however, has first-mover advantage. It also takes the cake with more than 3,500 patents tied to its own FLNG technology, making it the industry leader. That means as far as we can see, in the years ahead, Shell should know more about this new market territory than any of its competitors.
They wouldn't invest in a floating city if they didn't expect a sizable return on investment. As Frank Curzio details over at The Growth Stock Wire:
"So far, Shell has devoted 600 of its best engineers and over 1.6 million hours to build this tanker. It will be the length of four football fields and weigh 600,000 tons. That's six times heavier than the biggest aircraft carrier in the world. It's practically a floating city.

"And it's capable of drilling for natural gas almost anywhere offshore. The clean fuel is then turned into LNG on the tanker by being cooled to minus 260 degrees Fahrenheit, which turns it into a liquid. This process shrinks the volume of the gas by 600 times — allowing even more natural gas to be shipped."
In addition, the regulatory environment is swinging in favor of LNG. The U.S. government approved the construction of four natural gas export terminals a few months ago, with 15 more pending approval. In a few years, the U.S. could fulfill its goal to heavily export this cleaner fuel to places like Europe and Asia, where U.S. companies can charge more. That's something many of our friends in the Middle East and elsewhere — places on which the U.S. is dependent for oil — don't like one bit.
Then there's another likelihood that lends credit to the idea that LNG companies will truly be "capable of drilling for natural gas almost anywhere offshore." For better or for worse, if national policy changes, it may not affect laws in international waters.
According to Reuters five weeks ago:
"This speed at which the latest approval was reached — just five weeks after the previous project — puts the Department of Energy on a potential pace to rule on several more projects before year's end."
That's all well and good, you may be thinking. Except who wants to invest in Shell Oil?
They're too big to earn a decent return on anytime soon. Even the dividends aren't much.
That brings us to today's "pick and shovel" plays.
When big companies like Shell need something for one of their giant rigs, they go to companies like FMC Technologies (FTI: NYSE) for equipment and components — FTI is a global standout in the field of subsea technology, from the wellhead to gathering and processing lines and much more. These companies are still big, but they move much more than Shell. Just because it's big doesn't mean it can't get bigger. FMC technologies, for example, outperformed Shell by over fourfold in the past five years. More recently, year to date, Shell is down 1% and FTI is up 37%.
The company is strong in North America, South America (especially Brazil), Europe, Asia and Africa. There's room on the upside as the global rush for deep-water development continues apace. A similar company worth checking out is Oceaneering International (NYSE: OII), which makes remote operating vehicles (ROVs), has done great the last couple of years and is still growing.
The takeaway: in these new waters, where big companies work with mega companies in a symbiotic relationship… invest in the smaller of the two.
Don't forget to follow up with us Monday for our last energy source that goes way back in time before the present day.
Here's a clue: Already, we know this source could power the planet for 4,000 years!
Cheers,
Josh Grasmick
for The Daily Reckoning
Ed. Note: The future of energy investments is bright, especially when you consider all the of the new technologies that are coming online to discover and refine this energy. In other words… There are more ways to play the energy boom than to simply buy miners and commodities. And Josh has made it his mission to discover the market's most exciting of those companies. Sign up for his free Tomorrow in Review email edition to make sure you get the best, most up-to-the minute facts regarding this developing story.