2014: the Year of Volatility
If you want to know what you can expect from equities in 2014, look no further than this month's performance.
January sets the tone. If stocks finish the month higher, the market generally ends the year in the green. If it slips, we might be in store for a less-than-spectacular year. Think of the market as a sprinter waiting for the gun to fire. A strong first move could make up for fatigue along the home stretch, while a stumble out of the blocks can end the race in the first few steps.
Of course, January's numbers can't perfectly predict this year's final returns. But like all of the tips and tricks I show you in these pages, tracking January's performance can be a helpful guidepost on your trading journey. Just remember not to let your stubbornness get in the way of making the right decisions. After a truly spectacular year for stocks, it's time to approach 2014 with an open mind…
The final tally for 2013 says it all. The S&P 500 enjoyed its best year since 1997, posting gains of more than 29%. More than 450 stocks in the index ended the year higher, according to Reuters. That's the most to accomplish this feat since 1980.
In spite of all the bitching and moaning over the possibility of another major market crash, the ride higher was smooth and uneventful. No major drawdowns. Nothing resembling a correction…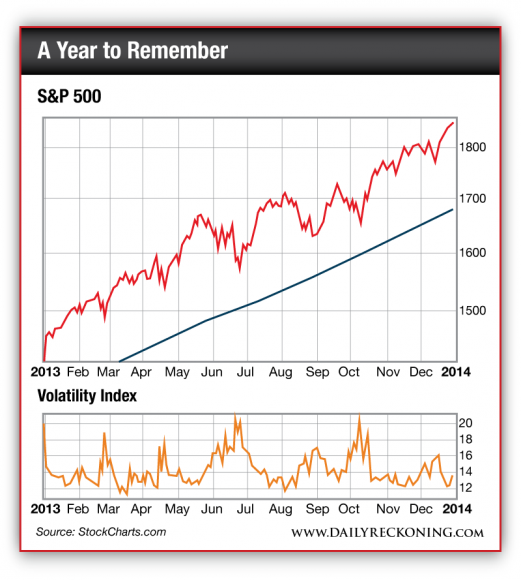 "In 2013, stocks stayed above their 200-day moving average the WHOLE YEAR. The last time that happened was 1997," explains angel investor and hedge fund manager Howard Lindzon. "Great returns in stocks with low volatility is just extremely rare."
Indeed. Now, we have a market nearing the top of its trading range– while the VIX continues to chill close to six-year lows. Perhaps it's time for some volatility to sneak back into the markets. I'm sure plenty of dazed and confused investors are eyeing 2013's performance this week. They'll want a taste of the action. It wouldn't surprise me at all if the market rocks the boats of the newly-invested masses…
Regards,
Greg Guenthner
for The Daily Reckoning
Ed. Note: As the journey through the 2014 market jungle begins, you'll want a sure-footed guide to clear you a path. That's what Greg does every morning for his Rude Awakening readers – giving them a frank and honest look at each trading day ahead. Sign up for the FREE, Rude Awakening email edition, right here, and start getting the full story.