Navigating a Frigid Market
While a brutally cold blizzard slammed the East Coast this morning, the 2014 trading season began with a whimper.
Gold, solar stocks, a few prominent social media and technology shares sprinted higher. But the broad market sagged. By the end of the day, the Dow dropped 135 points, small-caps drilled lower with the Russell 2000 giving back more than 1%
What gives?
Gold is holding firm. Stocks are sinking. Is 2014 the year we see a distinct change of character in the markets?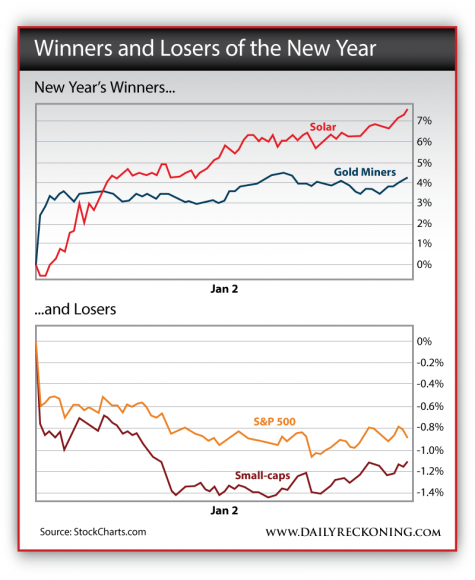 I don't have an answer to this question just yet. What I do know is if you're looking for the last time the broad market ended the first trading day of the year in the red, you have to go all the way back to 2008. I'm not trying to spook you– that's just the reality of the situation.
The next couple of weeks are going to give us plenty of crucial information about how the stock market might behave this year. But one day of market action shouldn't sway our thinking too much. One bright spot for equities is that there are pockets of stocks that completely ignored yesterday's sharp swing lower. And I've yet to see any glaring signal to short this market just yet…
The most important thing you can do today is to re-establish your trading system for the year. Heading into this pivotal trading month blind can only lead to pain and frustration. As I said yesterday, keep and open mind and prepare for every possible outcome. The gains will follow…
Regards,
Greg Guenthner
for The Daily Reckoning
Ed. Note: This morning, Greg offere his Rude Awakening email readers an extra word of caution about the markets going forward in 2014 — including 5 specific numbers to be aware of. If you didn't get it, you only got half of the story. Don't let that happen again. Sign up for the FREE Rude Awakening email edition, right here.