Why Gutsy Traders Are About to Lose Everything
If you trade with your gut, you'll probably go broke.
We're just two trading days into 2014 and investors are already fretting over major market shifts that haven't even happened yet…
The problem?
Everyone is falling prey to prediction season. They're extrapolating what they think might happen in the markets into actionable trades — instead of reacting to clear-cut trading signals.
"2008 changed the way we look at the markets," our trading buddy Jonas Elmerraji explains. "The Great Recession took our yardstick for measuring market successes, and hammered it a foot or two into the ground."
"So, as we enter a new year of trading, it's important not to rely on your gut. As technical traders, we've got a box full of immensely powerful tools that should continue to keep us on the right side of price action in 2014."
Here's the 2014 scoreboard:
Gold's up. Stocks are down. But has anything really changed?
See for yourself: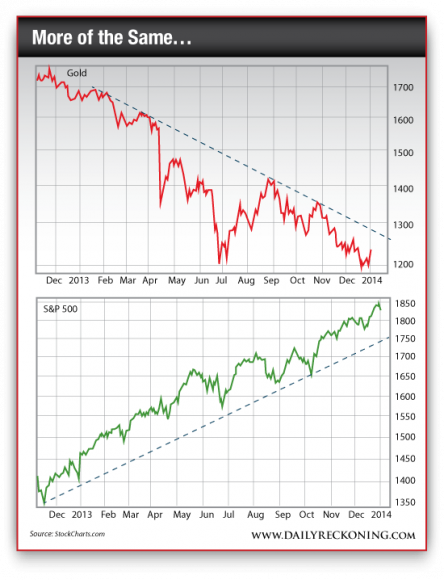 For the record, stocks could use a pullback. And it wouldn't surprise me if gold finally snagged some momentum this month. But when it comes down to how you view the markets, you have to maintain your big-picture perspective. 2013's trendlines remain intact.
If you want to swing these minor moves, knock yourself out. Just don't let your gut take over your trading decisions. The market will deceive you every time…
Regards,
Greg Guenthner
for The Daily Reckoning
Ed. Note: This morning, Greg offered his Rude Awakening readers 5 specific numbers to watch throughout the day, and 3 unique chances to discover real, actionable investment advice. Just an added benefit of being a subscriber to the FREE Rude Awakening email edition. Don't miss another issue. Sign up for free, right here.