The One Sector Everyone's Wrong About
As an investor, you face a dilemma not seen since the carefree years before the financial crisis paralyzed the world's economy…
You want to toss some money at stocks. But most sectors are more expensive than you'd prefer. Consumer names that turned out to be big winners in 2013 look overextended — and many individual stocks on your radar are sporting huge multiples.
But that doesn't mean you have to sit on your hands. There are, in fact, some reasonably-priced names on the market. Look no further than financials (yeah, I'm talking about big banks and other financial services firms).
Consider the following:
The 12-month forward P/E on the financial services sector sits at 12.7, according to ETF trends. That's the lowest of the major S&P 500 sectors.
"That is barely above the sector's 10-year average of 11.9 and the only other sector [that's] even close to [being] valued in a 'no respect' fashion similar to financials is energy," ETF Trends explains.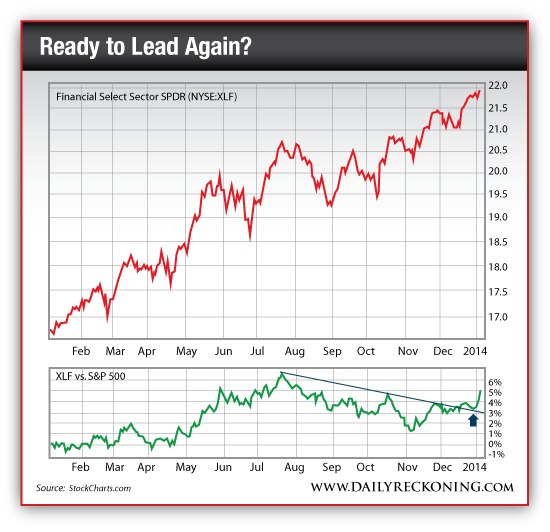 Sure, everyone hates on the banks. But everyone's usually wrong. Right now, financials are signaling they're ready to jump ahead of the market once again. After underperforming the S&P 500 since late July, an early January surge has solidified these names among this year's best performers so far.
Don't forget that names like the Financials Select Sector SPDR are still well below their 2008 highs — giving them plenty of room to run this year. Add in the potential of rising rates to the mix, and we could see some very compelling catalysts to help push these stocks higher…
Regards,
Greg Guenthner
for The Daily Reckoning
P.S. If you're looking for a low-maintenance long-term trade to start the year, XLF should provide you opportunities to buy on the dips. If you're looking for a quick, potentially profitable trade you can buy today… Well, that's where this morning's issue of The Rude Awakening came in handy… I gave readers an chance to discover how to gain access to a new pick that is rife with profit potential. Don't miss another great opportunity like this. Sign up for the FREE, Rude Awakening email edition, right here. And start getting the full story.