New Life for the Old School Tech Giants
2013 was the year of social media stocks.
Facebook staged an epic comeback. Twitter rocketed higher right out of the gate. Traders banked.
But if you're looking to rake in the tech gains this year, you need to pay attention to what's happening to the old-school, mega-cap tech giants…
Take Google, for instance. The king of search has enjoyed an incredible run recently. Over the past 18 months, the stock has doubled. Those gains aren't big enough for you? Check out Yahoo! Inc. Google's revamped older brother has jumped nearly 160% since mid-2012.
The kicker? The performance of each of these internet names is good enough to best Facebook's 87% gains over the same timeframe.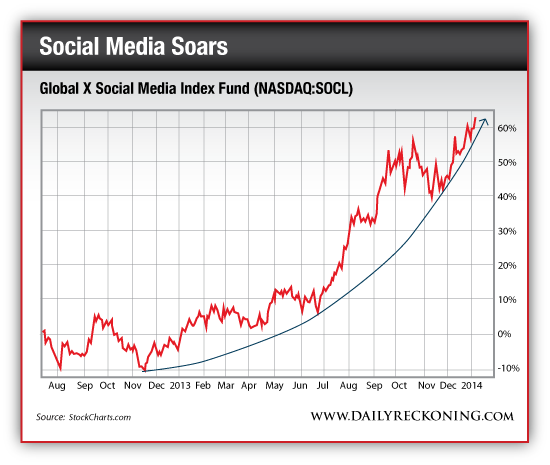 So no, it's not just the more speculative social media names that are moving. But before you start throwing a bunch of cash at Yahoo! and Google, know this: both of these stocks are overextended and could use a rest. I simply don't see a reason to jump into either of these stocks right now.
However…
I am seeing the first signs of rotation into some of the more unloved names in the technology space. Components, semiconductors and other "behind-the-scenes" tech firms are starting to perk up a bit. And if we do begin to see some profit-taking in the speculative tech darlings of 2013, it's possible that investors take their spoils and move into these stocks.
Regards,
Greg Guenthner
for The Daily Reckoning
Ed. Note: This morning, Greg offered his Rude Awakening email readers a chance to learn how to discover the best way to play this trend. And gave them 5 numbers to watch in the process. Just a small perk of being a Rude Awakening subscriber. Don't miss another opportunity like this one. Signing up is completely free, and there is no obligation. So you've got nothing to lose. Sign up for free, right here. Your next issue is just a few hours away.