Investing With the Canned Soup Trend
If you open your kitchen pantry this morning, chances are you'll stumble onto an old, dusty can of tomato soup.
You might have forgotten about it — but it's in there somewhere. And chances are, you aren't planning on eating it anytime soon.
The trend is simple: most folks don't want canned soup anymore. And as crazy as it might seem, this phenomenon actually has far-reaching effects on your investments…
"Soup has seen better days," reads a report from Quartz. "After decades of sustained growth, the global soup market contracted in 2009, and then again in 2010. While soup sales have since grown, recent growth has been lukewarm at best. In both 2012 and 2013, the market was essentially flat, growing by less than 1%."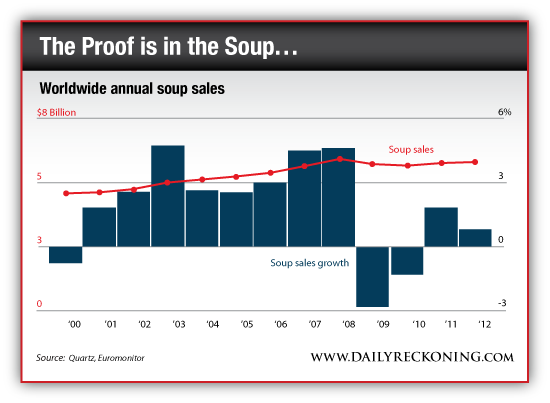 Yes, even your cheap dinner has succumbed to mass affluence. More expensive, healthy food trends have spread to your grocery stores — and even your fast food restaurants. Every food category from sandwiches to burgers (or even a bowl of soup) now has its very own higher-end chain.
The landscape of mass affluence in fast food has quickly spread to the stock market. Panera Bread Co. (NASDAQ:PNRA) has provided investors with returns of more than 235% since early 2009. Similar offerings involving upscale fast food chains are now taking the market by storm. Noodles & Company (NASDAQ:NDLS) hit the market last July, while sandwich maker Potbelly Corp. (NASDAQ:PBPB) listed its IPO in late September.
Now, I don't think you should rush to buy shares in any of the companies I just mentioned. However, what you should do is take a good, hard look at any company in your portfolio that isn't adapting well to this trend.
Many traditional packaged goods and fast food companies are scrambling to adapt to our pickier preferences. The ones that refuse to evolve might not be around 10 year from now…
Regards,
Greg Guenthner
for The Daily Reckoning
Ed. Note: This article was originally featured in the Rude Awakening email edition – a free newsletter that goes out every trading day just as the markets open. It gives readers a quick and dirty rundown of the day's likely market moves, including at least 3 ways to discover real, actionable investment advice. Don't wait another minute. Sign up for FREE, right here.