A Cushion for the Market's Bumpy Ride
When you cut through all the nonsense, the only true purpose of the stock market is to confuse the hell out of you and take all your money in the process…
And right now, the season is ripe for losing money.
The S&P 500 squeaked out a tiny gain yesterday. The broad market index has finished in the red four out of the last six trading days. But it hasn't exactly been a smooth ride for stocks.
In reality, stocks have taken the long road to nowhere. After the push lower to begin the year, the broad market has stuttered and stalled every single time it has tried to recover. Traders and investors have sold into nearly every single morning rally: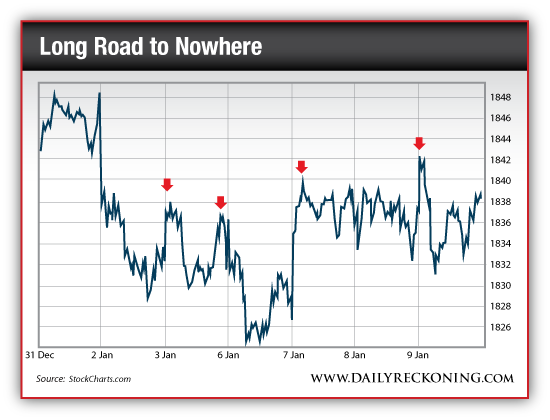 So you're stuck in the churn — a dangerous place for fidgety traders looking to put some money to work. You must remain patient when the market is behaving this way. I've seen plenty of false breakouts over the past two trading sessions. There's no reason to chase after any dubious day trades just to try and squeeze a buck out of a speculative stock's temporary run-up…
Your best bet in this "nowhere market" is to search for pockets of relative strength. While we haven't enjoyed any broad market moves higher, we also have yet to see a big downside push that tears down nearly every stock on the market.
As long as this market of stocks environment persists, we can continue to find sectors and industries that are outperforming the big index…
Regards,
Greg Guenthner
for The Daily Reckoning
P.S. The best way to stay ahead of these sectors is to read my Rude Awakening email edition. It goes out every morning before the opening bell, so you can get first crack at the most lucrative stocks on the market. Don't miss another issue. Sign up for my FREE Rude Awakening email, right here.