3 Simple Questions to Steer Your Investment Decisions
Stocks tumble, falling deeper into the red for the year. When the dust settled, the broad market posted its biggest loss since November.
Don't panic. The financial media has it all figured out…
You see, the S&P dropped yesterday on "valuation concerns". At least, that's what the folks at Bloomberg would lead you to believe. I can only assume the resourceful staff hit the phones and polled every single investor who dumped stocks. Either that, or they needed a good excuse to work in the recent Goldman Sachs note that calls the valuation of the S&P 500 "lofty by almost any measure".
Are the valuation concerns true? Perhaps. But the reality of the situation is we have a market trading near the top of its range. Stocks needed a break. Even if we see additional downside action, the market tells us to continue viewing potential trades through a bullish lens.
Here's what you do:
Allow relative strength to guide your trades. What worked last year? What's working this year?
What has changed?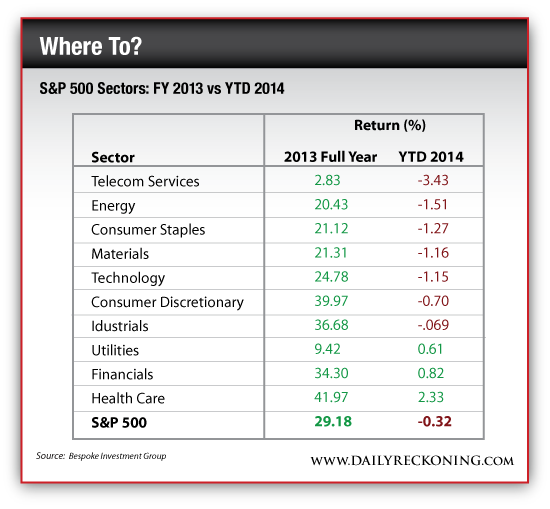 The chart says it all. Steer clear of telecoms — and ride health care and financial names.
"Outperformance has come from Financials at the sector level, the Pharma, Biotech & Life Sciences and Real Estate industry groups, and the Airlines industry," explains Bespoke Investment Group. "Most segments that would traditionally suffer in a slow market."
Regards,
Greg Guenthner
for The Daily Reckoning
Ed. Note: Every morning, right around the opening bell, Greg shares his thoughts with his Rude Awakening email readers. As a result, they've got a leg-up on the day's trading, with info that could help them navigate the day's market moves. Greg's quick and dirty analysis comes complete with 5 specific numbers to watch and no less than 3 chances to learn how to discover real, actionable stock picks. Don't miss out on any of these great opportunities. Sign up for the FREE Rude Awakening email edition, right here, and start getting the full story.