A Turnaround in the Stocks You Love to Hate
Some of Wall Street's most hated stocks are beginning to show signs of life.
If you have the guts to catch these potential turnarounds in the early stages, you could easily ride some of the most powerful trends of 2014…
I've already told you one of this year's big themes will be rotation. Stocks in unloved sectors and those in long-term uptrends that took a break in 2013 should attract plenty of attention from investors looking for their next big win.
Of course, it will take a while for investors to wise up to some of these moves. But the gears are already in motion. Take Alcoa, for instance…
In late September, Alcoa Inc. was dropped from the Dow Jones Industrial Average. The aluminum manufacturer had been a Dow component for 54 years. But its low share price had become a bit of a problem for the Dow (which, unlike the S&P 500, is a price-weighted index). Toward the end of its run, a major move in Alcoa shares barely registered on the Dow. In that sense, the company had become irrelevant.
But getting the boot from the Dow has so far been the best thing to happen to Alcoa in years. The stock is up more than 27% over the past four months…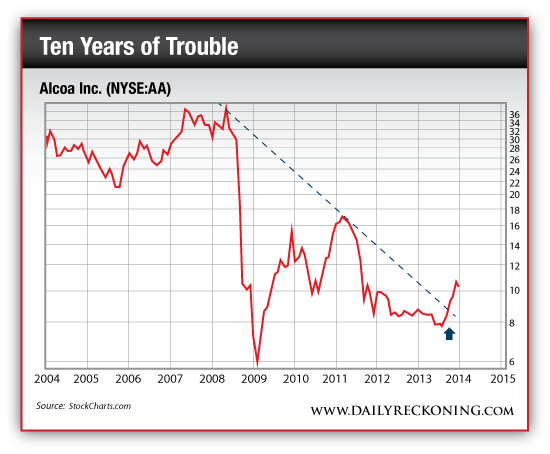 Alcoa's big move during the fourth quarter looks to be the beginning of a massive change in trend. Unlike many stocks on the market, Alcoa has yet to come close to its pre-financial crisis highs. The breakout you see here could change that.
Add aluminum to the list (along with steel) of materials stocks that are preparing to outperform the market this year. Each of these sectors is presenting an excellent buy-the-dips opportunity…
Regards,
Greg Guenthner
for The Daily Reckoning
P.S. There are plenty of other "buy-the-dips" opportunities out there, too. You just have to know where to look. Readers of my Rude Awakening email edition get a leg up on this and other potential opportunities, right as the opening bell rings every single trading day. If you're not getting it, you're missing out on daily market rundowns that include 5 specific numbers to watch, 3 chances to discover real investment plays, and the first-come/first-served knowledge it takes make truly astounding gains. And the best part: it's completely FREE and there's no obligation after signing up. So what have you got to lose? Sign up for my FREE Rude Awakening email edition, right here, and start getting the full story.