A Hedge Against Hedge Funds
As you know, 2013 was an amazing year for domestic equities.
Too bad hedge funds weren't invited to the party…
The average hedge fund left its investors with a return of 9.2% on the year, according to MarketWatch. That's downright measly when you compare it to the 28% returns you could have collected buying the S&P and taking the year off…
"According to Hedge Fund Research, hedge funds have made returns of 9.4% since 2011, and 39.6% since 2009. Not horrible right?" Rude researcher Noah Sugarman tells me this morning. "Well, considering a fund tracking global stocks would've returned 32% and 75% for the same period, it's safe to say the individual investor is probably better off making his own well-educated decisions. I don't know about you, but that doesn't give me much of an incentive to follow the smart money– nor does it justify the roughly $50 billion in management fees hedge funds earned in 2013."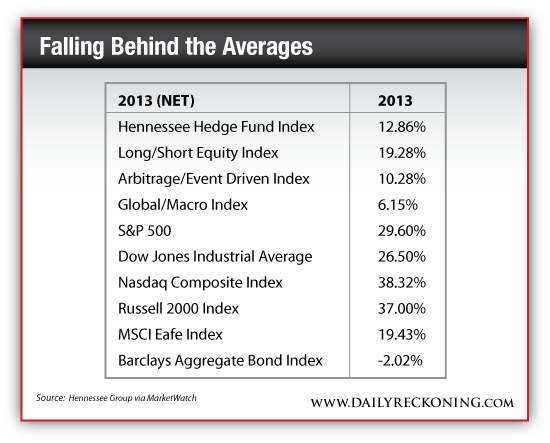 Noah has a point.
The only problem is the numbers show that the average investor hasn't taken full advantage of the markets. According to Nuveen, the average investor generated a 2.1% annual return over the past 20 years. The abysmal returns are blamed on bad timing and emotional decision making.
You can do better than that.
Just follow the trends and leave your emotional predictions at the door.
Regards,
Greg Guenthner
for The Daily Reckoning
P.S. That's what we do every single day in The Rude Awakening. Each morning, around the opening bell, I send readers a short-and-sweet email giving them a rundown of what to watch for in the day's markets. Readers are given 5 specific numbers to look out for and at least 3 chances to discover real, actionable stock picks. And it's completely free. So you've got nothing to lose. Don't wait. Sign up for FREE, right here.