The Only Retail Space Worth Considering
Traditional retail stocks are falling apart.
Today, I'm going to give you an up-close look at the carnage. I'll also show you why you need to avoid traditional retailers — and where to look for your next trade in this space.
The trend started picking up steam after holiday sales missed the mark in a big way.
How bad was it? The folks at Bloomberg Businessweek sum it up nicely:
"Consumer demand was anemic, and there were fewer days to shop because of the late November date for Thanksgiving," the article reads. "Foot traffic in stores dropped off in December. Retailers responded with aggressive discounting, then tried to force through more last-minute shipping deals than UPS could handle. The result? Unhappy customers and concern about ever-narrowing profit margins."
Yikes…
Less than a month later, we're seeing the full effects of sluggish December spending reflected in many retail stocks. Struggling has-been JC Penney continues to slump. Its stock is down almost 25% this year (and last I checked, we've only notched 11 trading days in 2014).
Not one to miss a pity party, Best Buy tanked nearly 30% yesterday after flubbing sales expectations. The electronics superstore continues to fall victim to showrooming — where potential customers test-drive products, then opt to find better deals online.
These retail torpedoes are having a noticable effect on SPDR S&P Retail Index: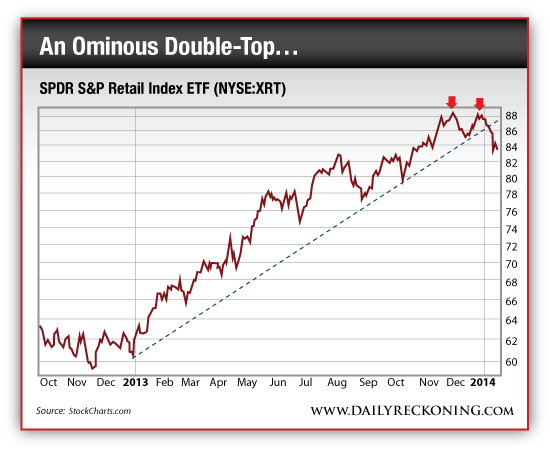 That's a nasty looking double-top and trendline break. More importantly, this breakdown is indicative of a huge watershed moment in retail. What we're seeing right now is the floodgates opening for line retailers. We've entered the Amazon Age — and there's no turning back. Just consider the Best Buy situation…
Amazon is gutting Best Buy and leaving it to die in the woods. Why? First, no one wants to go to Best Buy anymore. Then, we have Amazon talking about rolling out drone helicopters to deliver packages to its customers — while Best Buy is struggling with its margins by offering price matching guarantees. Which one of these companies feels like a winner to you? Is it even close?
Do yourself a favor and avoid these traditional retail train wrecks. Their best days are clearly in the past…
Regards,
Greg Guenthner
for The Daily Reckoning
Ed. Note: The retail space has been on the ropes for years now thanks to the growing online retail space. But how do you play this trend? Today, Greg offered readers of his Rude Awakening email edition the chance to learn how to do just that, including an opportunity to discover one stock he called "the future of all-things shopping." Not getting the FREE Rude Awakening email edition? Not to worry. You can sign up for free, right here, and start getting it delivered straight to your email inbox, every morning around the opening bell.