The Comeback Trend of 2014… So Far
Gold continues to slog sideways this morning after giving up its biggest drop in a month yesterday.
Frankly, I don't care what gold is doing today. Instead, my attention is firmly on the miners. I see some potentially lucrative comeback trades shaping up. More on that in a quick minute…
First, it's important to remember gold (the metal) didn't exactly perform well in 2013. But during the last few years, gold miners have fared even worse. Since late 2011, large-cap gold mining stocks have fallen more than 60%, while junior miners have tumbled more than 70%.
But the first few weeks of 2014 have been different…
"After bottoming in December, miners seem to be making something of a comeback," comments Rude researcher Noah Sugarman. "2014 may still be in its infancy, but gold miners are currently outperforming the S&P quite handily."
It's true. Miners are snapping back to life. The Market Vectors Gold Miners ETF is up more than 12% in 2014 — while the broad market remains stuck on pause…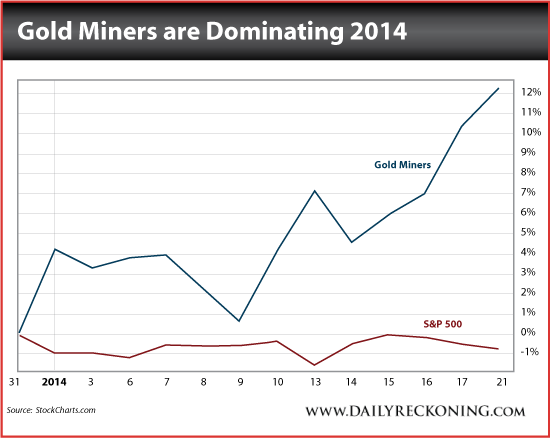 There are a couple things I like about mining stocks right now. Most miners are massively oversold. And for the first time in months, we're finally seeing some bullish volume appearing — especially in more speculative names such as the Market Vectors Junior Gold Miners ETF (NYSE:GDXJ).
Of course, there's a catch…
Don't get carried away and plow a bunch of money into miners without a plan. As of today, I don't know if this move higher will stick. We could be dealing with a change in trend or just a dead cat bounce.
But that doesn't mean you should completely ignore these stocks. Remember, you can play the potential change in trend — just don't marry your trade. Stay selective and keep your stops tight. Don't chase the big moves. Buy the dips if you miss the initial breakouts. And don't get too caught up in the narrative…
Regards,
Greg Guenthner
for The Daily Reckoning
Ed. Note: In this morning's Rude Awakening, Greg gave his readers the chance to discover a hot gold miner he's been following recently. But that wasn't all… He also gave them 5 specific numbers to watch and 3 specific chances to discover real, actionable investment plays. And he does this every single trading day, right around the opening bell. That way you're prepared for whatever the market throws at you on any given day. And it's completely FREE. So what are you waiting for? Give it a try, by signing up for free right here.