Natural Gas Prices: Too Cheap for Too Long
The weather is crappy. It's freezing, it won't stop snowing, and natural gas is spiking.
Yes, you read that correctly…
Natural gas — the cheapest of the cheap fuels — is starting to get a little more expensive. Natural gas prices jumped more than 5% during yesterday's session, pushing prices to levels not seen since late 2011. This morning, it's close to cracking $5.
Sure, there are some good reasons for the price surge. The government cut its gas inventory forecasts. And according to Bloomberg, gas delivery to consumers in New York and Boston set records yesterday as the most recent snowstorm buried the Northeast.
For some additional confusing analysis, we turn to Commodity Weather Group, which told Bloomberg that we will finish the month with a natural-gas-weighted heating-degree days value of 1,050.8, beating the previous record of 1,038.1 set in January 2004 (this is just a roundabout way of saying it's colder than it's been in a decade and more energy is needed to heat your house).
Sure, the cold temps are behind the big surge in natural gas this week. But what's really important right now is the long-term chart: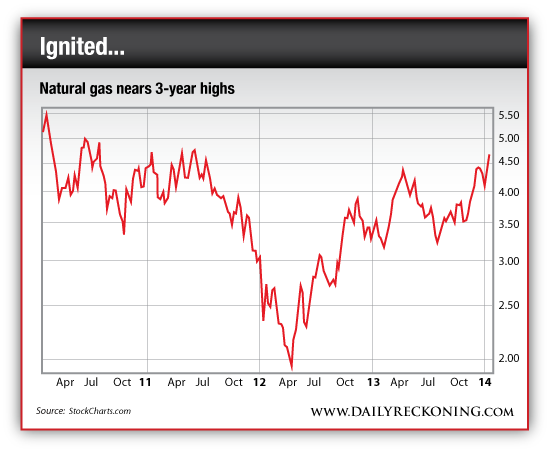 This morning, natty gas is cracking 3-year highs. This bullish move will launch gas into an even sharper uptrend as it continues to break out of its post-financial crisis funk. Gas has been cheap for far too long, dropping to less than $2 in early 2012. Remember, from 2005 to 2008, natural gas routinely traded in the $8 range, with spikes as high as $14.
If you're looking to play this monster move in natty gas, you can always check out the United States Natural Gas Fund (NYSE:UNG). Don't chase. Instead, look to buy the dips to play the longer-term trend…
Regards,
Greg Guenthner
for The Daily Reckoning
P.S. Rude researcher Noah Sugarman sees the demand picture changing for natural gas across the globe. In fact, he's found a completely different way to play gas. And in today's free Rude Awakening email edition, I gave readers a unique chance to access Noah's research. It's just a small perk of being a reader of the Rude Awakening email edition – a free service dedicated to giving you up-to-the-minute information on the market's most interesting and potentially profitable stories. It goes out every morning around the opening bell so you're poised to learn how to start profiting right out of the gates. Don't wait another day. Sign up for FREE, right here.