Profit Potential from a Home that Knows Your Name
Very soon, your home will know all about you.
Every appliance and device will be linked to the Internet. Your house will learn your habits and preferences. It will adjust and tweak your entire life to keep you comfortable.
Of course, you stand to profit from this technological insanity. More on that in just a second. First, take a look at how this science fiction movie is taking shape…
Google will be the driving force behind this movement — which is fitting. After all, the web giant already knows all about what you're looking at on the Internet. So why not take over your entire house?
Here's how Google will do it:
First, the company just shelled out a cool $3.2 billion to acquire "smart" home products company – Nest Labs. That's the second largest purchase that Google has ever made — behind its 2012 Motorola Mobility acquisition worth $12.5 billion.
It's all part of the "Internet of things" that will bring interconnectivity to even your most mundane devices…
"Founded by the two former Apple engineers behind the original iPhone, Nest Labs has created automated smoke alarms and thermostats – with the latter garnering some pretty critical attention," explains Rude researcher Noah Sugarman. "The company's smart thermostats learn your habits and daily schedule to bring you an automated home heating/cooling experience that cuts your energy usage dramatically and makes your life far more convenient, all while drawing from Internet data to optimize temperature based on impending weather patterns."
But Nest Labs is just one piece of a much larger picture. While home automation isn't exactly new, it is steadily becoming accessible. And as this type of automation tech becomes more budget-friendly, companies like Google will want to capitalize on the upswing in demand.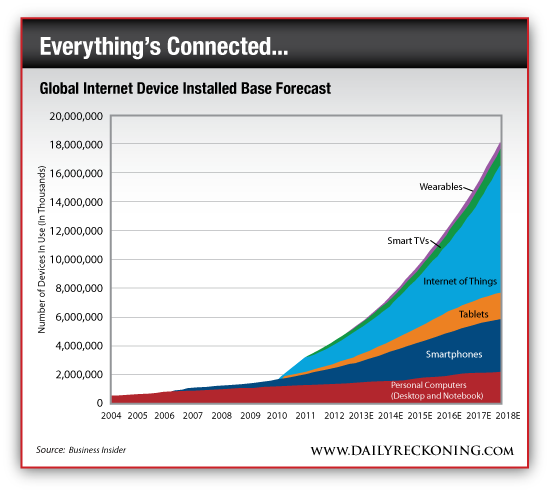 "Google's Nest Labs purchase signals is the company's foray into this new stage of connectivity. Up until now, the Internet has largely been disconnected from the physical devices that we interact with in our homes on a daily basis," Noah continues. "But that disconnect is coming to a close…"
Regards,
Greg Guenthner
for The Daily Reckoning
P.S. There are several ways to capitalize on this trend even before it gains significant momentum. And in this morning's Rude Awakening email edition I gave readers a unique chance to learn more about them. If you didn't get this morning's Rude, not to worry. You can sign up for FREE, right here, and start getting the full story. Every edition of The Rude Awakening comes complete with 5 numbers to watch, a rundown of the markets most important trends and no less than 3 chances to discover real, actionable investment opportunities. And it is 100% free to sign up. So don't wait another minute. Click here to start getting The Rude Awakening sent straight to your email inbox every single trading day, right around the opening bell.