Correcting the Bias for a Stock Market Correction
This is the end.
The market is rolling over. Pain and pestilence await all investors.
At least, that's how it feels after Friday's drubbing. Stocks took some serious punishment. Relentless selling pushed the S&P 500 down more than 2% on the day.
But in reality, our perspective is way off. The market has been much too agreeable over the past year or so. We haven't experienced anything close to a serious correction, making last week's action feel like a stock market apocalypse…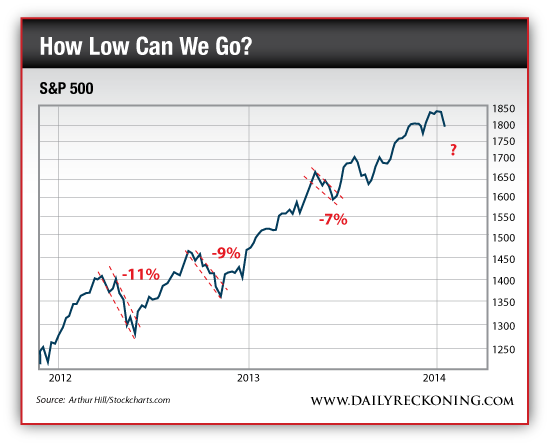 What's getting lost in the shuffle is the fact that the broad market is just about 2% below all-time highs. That doesn't mean I liked the market action I saw last week — but it does put the move into perspective.
As I've discussed before, the broad market has been trading near the top of its range for weeks. In fact, we could see the S&P shed another 50 points before it approaches support.
"Bears who have been wrong for the last two years have been beating on their chests screaming 'THIS IS IT!' in opinion columns and on Twitter, but the fact remains that the S&P 500 could drop another 4% without violating trendline support," explains my trading buddy Jonas Elmerraji. "Unless support gets broken, this is just another correction, not a crash."
Are we due for a deeper correction than a measly 11% pullback this time? Probably.
Does that mean it is starting right now? I'm not sure just yet. I don't know, you don't know — even Marc Faber's tiny ponytail doesn't know how the market's going to react this week.
So far, a longer-term investor shouldn't react to this action. But if you're trading, honor your stops and consider riding the pine for the next couple of days while the market digests Friday's big swoon.
Regards,
Greg Guenthner
for The Daily Reckoning
Ed. Note: Every morning, right around the opening bell, Greg gives his Rude Awakening readers a quick and dirty rundown of what he's seeing in the markets, including a rundown of the day's trends, 5 numbers to watch and at least 3 chances to discover real, investable profit opportunities. If you're not getting the Rude Awakening you're only getting half the story. Sign up for FREE, right here, and start getting the whole thing.