The Frying Pan or the Fire: US Stocks vs. Emerging Markets
As worried investors continue to sell stocks, you might think it's time to look overseas for some bargains.
Let me save you the trouble — don't do it. Selling out of U.S. stocks for emerging market exposure right now would be like jumping out of the frying pan right into the fire…
Sure, I've talked about emerging markets a lot over the past year. Heck, we even traded some of them last summer when they bottomed and shot higher. I even noted that the potential breakout move in China's Shanghai Composite was one of my favorite setups of 2014.
But now, just a few weeks into January, the charts look broken. Cracks are appearing across the globe. From China growth scares to Turkey's borrowing to Argentina's currency meltdown, it feels as if a new crisis tosses more gasoline on the fire every day.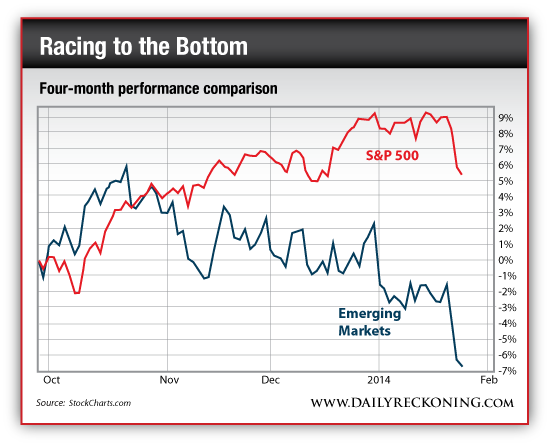 "Emerging market equities just posted their biggest drop in almost seven months, overshadowed only by the most extensive selloff seen in emerging market currencies in five years," explains Rude researcher Noah Sugarman.
While the S&P has dropped 3.6% to start the year, the iShares MSCI Emerging Markets ETF (NYSE:EEM) is down almost 9%. That's a nasty drop for a basket of names that looked to be getting its act together just a few months ago…
Expect some wild action from emerging markets over the next several months. Ultimately, I think many of these names will move lower.
My friend J.C. Parets, president of Eagle Bay Capital, wrote on his blog that he is a seller of EEM on any strength. He notes the false breakout in emerging markets three months ago will most likely cause a much more violent move lower. Toss your support levels out the window — this wildfire could get out of control very quickly…
Regards,
Greg Guenthner
for The Daily Reckoning
P.S. Noah and I recently dug up a fresh emerging market play – one that looks ripe for a quick trade. In today's Rude Awakening email edition I gave readers an exclusive chance to learn all about this opportunity first-hand. To make sure you don't miss another great chance to profit, sign up for my FREE Rude Awakening email edition, right here.