Cleaning Up Bathrooms and Battlefields
"When it comes to changing the face of warfare," proclaims our ex-Navy officer turned newsletter editor, Byron King, "this one tops them all".
"Scientists and engineers," he says "are taking us closer to the day of the last warrior".
"I'm talking about an America that no longer sends significant numbers of troops overseas."
At some point in the future, in other words, your children or grandchildren may be spared the horrors of the battlefield that have been a necessary evil since history can remember.
"PackBots were the obvious choice to explore the No. 1 plant's shattered, radiation-saturated reactor units."
Let it be known: Byron is no utopian. He knows that for now, armed forces are needed.
Last year alone he says, "The U.S. narrowly avoided another Mideast entanglement in Syria."
"Meanwhile, we learned that U.S. troops will remain in Afghanistan beyond next year."
"Plus," he goes on, "it looks like that tenuous 'peace' between Israel and Iran is shakier than ever as Western powers loosen restrictions on Tehran's nuclear ambitions. And then there's that new issue of Asian airspace, with China's new assertiveness."
Yikes.
Good thing then that in the future, the U.S. won't send troops overseas. They'll send things with names like "Warrior", "Big Dog" and "Gladiator"… and "PackBot", a much less fearsome but equally important scout robot (and which, incidentally, could be a doppelganger for Pixar's WALL-E).
"That 'world peace' thing is just too good to be true, but this," Byron says of the mil-tech in question, "could be the next best thing." And what's better, it's investable.
Here we go…
More than 20 years ago in the cradle of MIT, a trio of young scientists got to work on real-world applications for artificial intelligence (AI). After university, they became entrepreneurs, founded the company iRobot Corp. (NASDAQ:IRBT), and before the end of the decade were offered a contract to assist the U.S. military through DARPA (the Defense Advanced Research Projects Agency). The first result was PackBot, an SUGV (Small Unmanned Ground Vehicle), pictured below: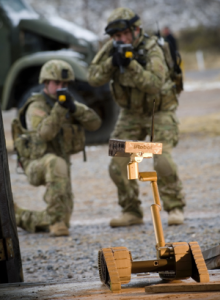 This "little robot that could" scouts ahead at speeds past 8 mph, climbing stairs
and outfitting its multi-section arm with various attachments
Two wars were raging in the Middle East when PackBot was approved and deployed by the U.S. Army and Marine Corp. And by the end of 2004, IED's or Improvised Explosive Devices became the norm. That's where PackBots became soldiers' little helper, saving untold American lives. These rovers enabled U.S. soldiers and Marines to check out suspected bomb sites remotely, sending the robot to inspect and — if necessary — detonate explosives riddled throughout the terrain. Soldiers — and citizens — meanwhile, could be kept a safe distance from the "kill zone". By 2010, iRobot delivered its 3,000th PackBot; at the height of U.S. involvement in Afghanistan and Iraq, there were 2,000 of these robots in theater… mainly performing Explosive Ordnance Disposal (EOD) missions.
But that's the past. The future for iRobot is autonomy. iRobot recently announced that its robots can come equipped with a "User Assist Package" or UAP, imbuing these AI with a limited degree of self-awareness and self-direction. Some PackBots can now provide situational awareness to SWAT teams in urban warfare by locating enemy snipers with high-tech acoustics. These same machines were critical in 2011 when the Japanese government scrambled to contain the world's worst nuclear disaster at the Fukushima power plant. It was too hot inside the reactors — any human being would have received a fatal radiation dose after 20 minutes. The Japanese have been world leaders in industrial robotics since the 1970s, but when it really mattered, they turned to iRobot. "Packbot was ready like Cup Noodles" said The Japan Times — an allusion to Japan's national microwavable soup — "PackBots were the obvious choice to explore the No. 1 plant's shattered, radiation-saturated reactor units."
PackBot's successor will be the "710 Warrior" — but that's another story for another time.
iRobot is a great example of a demand to bring about "the day of the last warrior". However, most of iRobot's revenue comes from its sale of common household appliances. Just this morning, I saw a magazine outside my neighbor's front door. It featured the Roomba robotic vacuum cleaner that has been sold to a mind-boggling 10 million customers.
Last month, the new editor of Breakthrough Technology Alert, Stephen Petranek – a styled "explorer-writer" and former editor-in-chief of Discover magazine – recommended the company as a sell for a 159.52% gain from back in September, 2008.
Yes, at a time when iRobot's share price spiked after Google (NASDAQ:GOOG) bought Boston Dynamics – a company with similar origins – it was the tail-end of an eight company acquisition binge. "Given the innovative horsepower of [Google's] eight acquisitions," Stephen said at the time, "it would probably take Google under a month to come up with a better vacuum cleaner that sells for less than iRobot's Roomba."
"It's worth saying that iRobot makes other robotics, including mobile hospital delivery platforms, but its bread and butter is consumer items like a $300 gutter cleaner that still requires you to climb a ladder and place the thing in the gutter. The companies Google bought are highly innovative. I think iRobot is both unlikely to be bought by Google and able to compete with anything Google decides to focus on since the king of search started buying robotics firms."
Hmm, you don't say?
Tomorrow we'll see what Google's been up to…
To be cont'd…
Best,
Josh Grasmick
for The Daily Reckoning
P.S. With technological innovation moving faster than ever before, this is one of the most exciting times to be alive – not to mention being an investor. That's why I write the Tomorrow in Review email edition – to give readers the most interesting stories on the world's best new technologies… and offer a few opportunities to make some money in the process. If you're not getting the Tomorrow in Review email edition, you're only getting half the story. Sign up for FREE right here to start getting the whole thing.