Navigating Markets in the Cruelest Month of the Year
January is almost in the bag. And unless you've been trapped inside your igloo for the past month, you know the market isn't exactly blasting higher.
I told you a few weeks ago to look to January to set the tone for this year's trading. So far, the tone has been decidedly bearish. Barring a monster rally today, the S&P 500 will finish the month down a cool 4%.
The last time the market started off the year in the red was 2010. That year, January losses came in at -3.7%…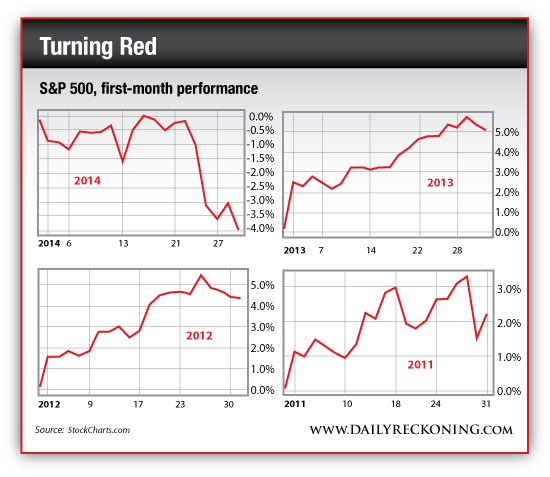 In fairness, 2010 wasn't a completely lost year for stocks. The market got off to a rough start, rallied into the spring — then tanked into the summer months. It wasn't until September when stocks finally recovered, mounting a year-end rally that helped push the broad market to a 12.8% gain on the year.
Now, everyone wants to know if we're going to have a tough trading year that ultimately pushes higher like we saw in 2010 — or a disastrous meltdown.
I have no idea. If I did know, I wouldn't be writing to you this morning (no offense). Instead, I'd be watching the sun rise on my private island in parts unknown…
We can't predict with certainty whether or not the emerging market troubles we've experienced this month will infect US stocks to the point of crisis. This exercise is futile. Your mission is much simpler. Rather than act on wild guesses, you need to react to what the market tells you.
If you're trading this market, lighten up your exposure and don't lean too far bullish or too far bearish. This type of environment can get extremely volatile. Don't get caught on the wrong side of a big move…
Regards,
Greg Guenthner
for The Daily Reckoning
P.S. In this morning's Rude Awakening, I gave readers 5 numbers to look for as the uncertainty in the market plays out. I also pointed out an important trend to watch and gave them 3 chances to discover the best investment opportunities the market has to offer right now. If you didn't get it, you missed out on the full story. Click here to sign up for free, right now, and make sure that you're never left out in the cold again.