Don't Fear a Market Correction
You are waking up this morning to market weakness across the globe. Asian and European exchanges are in the red. Ditto emerging markets. Stateside, traders are slamming S&P futures — which are pointing to another painful opening for U.S. stocks.
With this month's crappy performance coming to a close today, it's time to start talking about an actual, honest-to-god correction. It's nothing to fear. In fact, if you keep your head up, you can continue to trade and book gains during the market's slide.
But first, let's put the market's performance streak in perspective…
"Recent stock market weakness has stoked fears that we've hit a top in the S&P 500 and a 'correction' is right around the corner," reports Bespoke Investment Group.
In case you're curious as to why "correction" is in quotes, it's defined in this case as a decline of at least 10% that occurs after a rally of at least 10%. Easy enough…
So why have these correction fears bubbled to the surface lately?
Perhaps it has something to do with the fact that the S&P 500 has now gone a spectacular 835 calendar days without a 10% correction.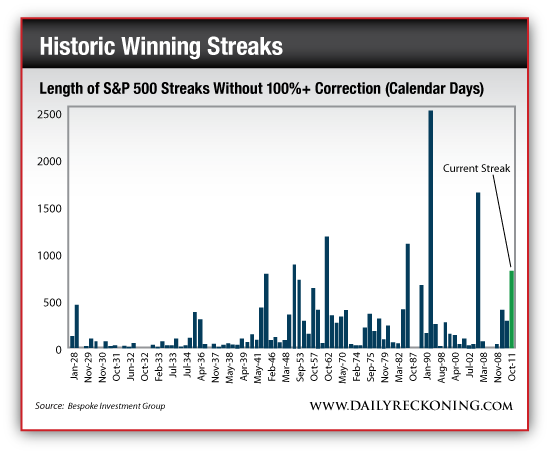 "A correction of some kind is eventually inevitable, but timing when that 10% drop comes is very difficult," Bespoke muses. "There have been 4 rallies in the history of the S&P 500 that have had a longer streak than the current one, so this correction-free stretch is definitely not unprecedented. There have been two periods in the last quarter century that had a longer streak, including the period between October of 1990 and October of 1997."
Is a much deeper correction (something between 10%-20%) out of the question at this juncture? Certainly not.
If the market continues to fall, don't fight it! Do not attempt to buy every bounce. This type of manic behavior could cause you to become broke and insane at the same time. Not a good combination…
An old Wall Street saw says the markets take the escalator up and the elevator down. Downside moves are swift and brutal (as you'll soon see this morning). They're also volatile. You have to remain careful and ready to act on a moment's notice — even on the short side.
Regards,
Greg Guenthner
for The Daily Reckoning
P.S. In this morning's Rude Awakening, I gave readers an opportunity to see my complete correction strategy guide. If you didn't get it, not to worry… I'll be back on Monday with another great opportunity just like this. Sign up for FREE, right here, and have my Rude Awakening email sent straight to your inbox right around the opening bell.