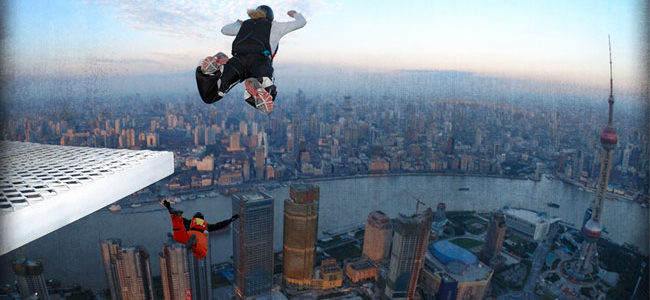 How to Survive a Market Free Fall
With stocks now in freefall, panicked selling has caused some unsightly losses for many investors. But if you know where to look, you can find a couple of strong sectors to potentially ride out this mess.
More on this in just a second. First, we need to survey the damage…
You already know that investors slammed stocks. The Dow dumped more than 300 points. In the more vulnerable corners of the market, the damage was even worse.
Take small-caps, for instance. The Russell 2000 had its worst day since April 15, 2013 when the small-cap index lost 3.78% on the day, according to market technician Ryan Detrick. Yesteday, the Russell lost 3.2%. Buyers were nowhere to be found…
But if you look beyond the major averages, you will begin to see a couple of key pockets of strength. As inconceivable as it may feel right now, every single stock in the world didn't drop 5% yesterday. In fact, a couple of sectors are holding their ground. This is where you need to park your coin…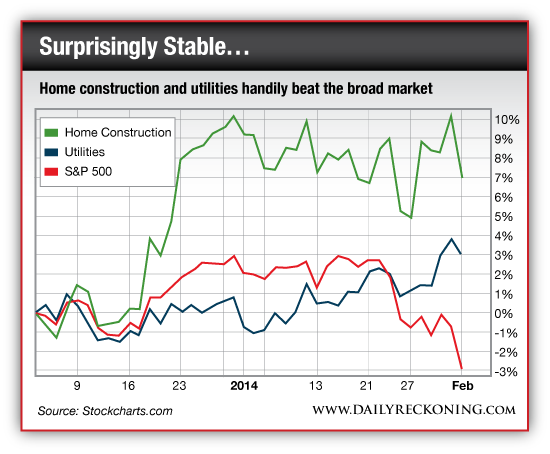 As of this morning, I like what I'm seeing from utilities and home builders. The Utilities Select Sector SPDR (NYSE:XLU) spent much of 2013 consolidating. Same goes for the home builders (I like to use the iShares Dow Jones US Home Construction ETF (NYSE:ITB) to gauge this group).
While each of these sectors is not immune to market forces, they are both easily besting the performance of the S&P 500 over the past couple of months. If you take the time to dig through the wreckage this morning, you'll find that these two sectors are your best bets on the long side as you try to outlast the market turmoil…
Regards,
Greg Guenthner
for The Daily Reckoning
P.S. As the market tanks, some investors may feel a little adventurous and try something unexpected. In today's Rude Awakening email edition, I gave readers a unique chance to discover a great play on this dynamic. Don't miss out on great opportunities like this. Sign up for the FREE Rude Awakening email edition, right here.