The Good, the Bad and the Earnings
Earnings are a joke.
Every three months, the financial world collectively loses its mind over earnings season. Analysts fall all over each other trying to predict the beats and misses. Gamblers jockey for position, buying stocks hours before potentially violent price swings. And inevitably, a sad group of traders ends up holding the bag as trend-breaking earnings surprises cripple their brokerage accounts.
Yet no matter how ridiculous the spectacle gets, we all line up at the earnings season slaughterhouse the very next quarter…
Don't take this the wrong way. I don't think earnings are totally pointless. After all, a company has to bank some money to stay in business. But if you think earnings are the end-all, be-all of investing, you're going to lose a lot of money. Period.
Just think back to 2013. Earnings weren't exactly stellar. In fact, earnings estimates sank lower and lower as the year progressed. And last I checked, the broad market had a great year in spite of the diminished expectations.
Not so this year. Earnings are surprisingly strong. Yet the market has turned south…
"Of the 251 companies that have reported earnings to date for Q4 2013, 74% have reported earnings above the mean estimate and 67% have reported sales above the mean estimate," according to FactSet. "The percentage of companies reporting EPS above the mean EPS estimate is above the 1-year (71%) average and the 4-year (73%) average."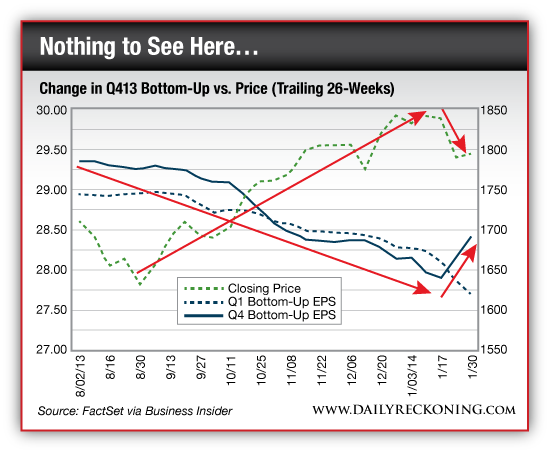 If you based your investing decisions solely on these big-picture earnings estimates, you would have been selling stocks during last year's historic rally — and buying as stocks endured their worst performance in months.
Don't fall into the earnings hype-machine again this year. Follow the trends instead. Your brokerage account will thank you…
Regards,
Greg Guenthner
for The Daily Reckoning
P.S. In this morning's email edition of The Rude Awakening, I gave readers a few additional tips to help them whether the earnings season – including 5 important numbers to watch, 3 specific chances at profit opportunities, and a little advice to put your mind at ease despite the market's lackluster performance. And you get all of this bonus material every single issue of the free Rude Awakening email edition. Sign up for FREE, right here, to make sure you're getting the full story every morning right around the opening bell.