A Way to Sidestep Earnings Landmines
The earnings season formula is simple enough…
If a stock you own beats earnings expectations, you'll see your shares skyrocket. But if your favorite investment misses the market this earnings season, prepare for big trouble.
Look no further than social media stocks for proof.
Market newcomer Twitter reported earnings last night. The company actually turned a small profit. But Twitter also admitted it is having trouble growing its user base. That tidbit alone was enough to knock the stock down more than 22% in after-hours trading.
Chalk Twitter up as the latest earnings landmine detonation. Sure, the drop will mortally wound some high-growth portfolios. But does this spell doom for the entire social sector?
Maybe not…
"We may just be scratching the surface with social media," muses Rude researcher Noah Sugarman. "It's pretty easy to juxtapose any sector's performance atop the major indices' dreadful -8% start. And social media's a sector that's only down about 1% on the year and while holding support."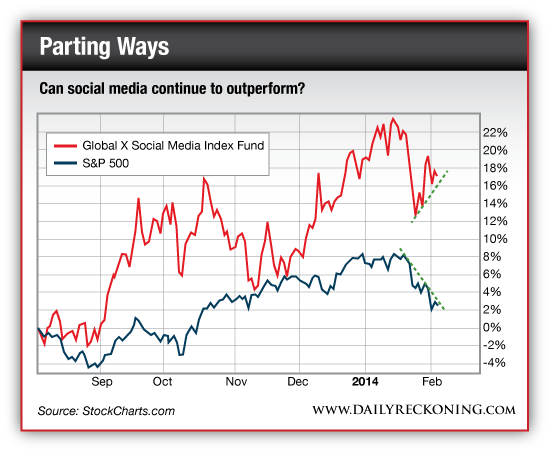 "Social media names might be pretty hot right now, but it's quite possible that they have yet to fulfill their full potential," Noah continues. "That potential will come in the form of sizable and effective ad revenues – revenues that firm eMarketer projects will jump by 31% this year alone."
You'll continue to see growing pains among these high-growth social media stocks. But not all of them are dogs. Many of these names (even the smaller ones) are seeing massive traffic and yet are still only just figuring out how to fully monetize their platforms.
Consider this:
"People now spend 5 hours and 16 minutes a day on the internet (more than half of which is mobile), and 4 hours and 31 minutes watching TV," Noah says. "Yet digital sees just 22% of ad revenues. That's a big gap that's yet to be closed…"
Regards,
Greg Guenthner
for The Daily Reckoning
P.S. This morning I gave my Rude Awakening email readers a chance to learn more about one under-the-radar social media trade that could do very well regardless of how earnings season plays out. If you didn't get, don't worry. I'll be back tomorrow (and every trading day) right around the opening bell to give you a quick and dirty rundown of what I'm seeing the markets right now – including at least 3 chances to learn more about great profit opportunities like the one I just mentioned. So don't wait. Sign up for the FREE Rude Awakening email edition, right here, to get started.