Airline Industry Finally Ready for Takeoff
Last week, I saw the following chart of the 10 best-performing Dow sectors — out of over 100 — over the past year.
Notice how the Dow aerospace sector did very well in 2013. At No. 5, aerospace outperformed casinos, but was (alas) just behind consumer electronics.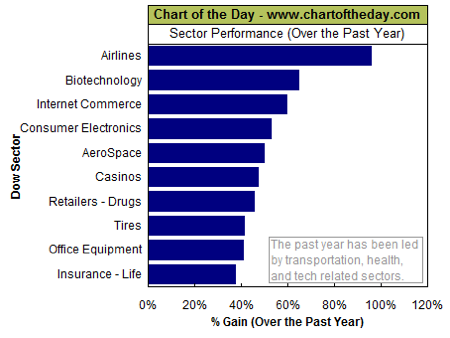 Let's take a look at the No. 1 best-performing sector of 2013, airlines.
Airlines are not quite military technology, to be sure, but there are many similarities worth understanding.
Every now and again, lightning strikes in the investment world. The past year has been a very good storm of positive news for airlines. In my view, the best news is that energy prices are stable, if not down. That alone means that the single largest cost element of running an airline — buying fuel — has come under control for the first time in many years.
Meanwhile, at the operations level, airlines have dramatically cut costs since the 2008 market crash. First and foremost, day to day, North American skies are less crowded, with far fewer flights zooming hither and yon to more concentrated hubs. Fewer, but more profitable.
Delta trades off gasoline… in return for more jet fuel… this is totally sophisticated energy trading.
According to the U.S. Department of Transportation, in 2007 (i.e., before the market crash), domestic airlines offered over 744 billion available seat miles, meaning seats available from all carriers flying to and from all commercial airports. In 2013, that number was down 22%, to 579 billion. In the past five years, many airplanes and many flights have simply been eliminated.
Today, travelers encounter more "rational routes," as airlines like to say, but with fewer available seats and overall higher ticket prices. When it comes to buying tickets, since the 2008 crash, people generally have had more money to spend and are back to flying.
Out at the airports, Delta, for example, is on a roll. About six years ago, Delta merged with Northwest Airlines. That tie-up is now complete, and overall, things are running very well (except when there's snow and ice).
Then in 2012, Delta made a brilliant logistical move by buying the Trainer Refinery, near Philadelphia. The overall cost for the refinery was $150 million, which is the price of two new stripped-down jet aircraft. But consider how Delta has played this hand.
Along with buying Trainer, Delta made a deal to buy oil from the Bakken play, in North Dakota. Now, on any given day, trainloads of Bakken oil move cross-country by rail car, for delivery to a newly built rapid-unloading rail terminal. Think about THOSE logistics!
At Trainer, Delta refines the Bakken oil into a high-end mix of jet fuel, with numerous other products that it swaps out with other oil companies. For example, Delta trades off gasoline, diesel, asphalt, etc., to other refiners in return for more jet fuel. At root, this is totally sophisticated energy trading.
Now Delta has access to the lowest-cost jet fuel in North America, with a direct pipeline to New York and JFK Airport. On any given day, Delta has the lowest fuel costs among carriers in the Northeast region and for transatlantic flights. It's all about controlling costs, because every penny of fuel savings translates into $40 million per year for Delta's bottom line.
With other large airlines, the merger process of the past few years is less advanced but still showing results. United and Continental have been together for nearly three years, but there are still occasional glitches in ticketing and scheduling. For the most part, though, it's working out.
Last year, American Airlines managed to convince a bankruptcy judge, as well as the U.S. Department of Justice, to permit a merger with U.S. Airways. It's early in the game, but things look good, and we'll probably see a better, stronger carrier.
Meanwhile, out at the discount airlines, from Southwest to Spirit, people are packing in.
When you follow the airline industry, it's no wonder that this particular Dow sector did well last year. So well, in fact, that we're finally seeing orders for new aircraft by domestic airlines. This comes after many years of airlines flying tired, old airplanes — many of which truly show their age.
Meanwhile, it's important to note that new North American orders are rolling in just as the developing world appears to be hitting the economic skids. Boeing, Airbus, etc., have fat order books, but many of the customers are in, say, Turkey, India, Latin America, Africa and other regions suffering from capital flight. So the new orders could not come at a better time, in the sense that there's a possibility that some overseas orders will get deferred or canceled.
The bottom line is that there's good news out at the airport, right?
But can the good fortune of the airline sector persist? Yes and no.
On the positive side, airlines should make money in 2014.
Fuel costs ought to remain stable, what with fracking for oil and all. But if oil prices spike over a war or major natural calamity, all bets are off.
Meanwhile, airline labor costs are under control. Legacy costs, such as pensions, are also cut back, via the past bankruptcy proceedings that many airlines have endured.
And when it comes to the cash register, passengers appear to be buying tickets. Cheap seats are few and far between, as you may have noticed. If you fly, you'll likely pay a solid price for business class and better or pay less and squeeze into those tight little seats back in coach.
Then again, at this point, if you aren't invested in airlines, don't rush out and back up the truck.
Airlines delivered nice gains last year, but I don't foresee another year of 100% growth in share prices across the Dow airline sector. That train (so to speak) has come and gone.
Best wishes…
Byron W. King
for The Daily Reckoning
Ed. Note: In addition to the airline sector, Byron has his finger on the pulse of the mil-tech spending space. It's not often you get an inside scoop on the military's modern technology. Usually the successful inventions and breakthroughs that come out of that space take a decade or two to go mainstream. But Byron's got a few tricks up his sleeve, and in today's issue of Tomorrow in Review, readers had a chance to discover Byron's research for themselves. If you didn't get it, not to worry. You'll see another great opportunity like this in tomorrow's issue (and every issue) if you sign up for FREE right here.