A Big Reason to Bet on a Market Bounce
When you're trading, you have to play what you see. If you lay money down on wild guesses or instinct, you're going to get burned.
Just look at the market action over the past three sessions. After a dreadful start to the year, stocks are finally beginning to kick it into gear. In fact, Thursday was the best day of 2014 for the averages so far. The S&P 500 shot higher by more than 45 points, while the Dow posted its first gain of more than 1% since December 18, according to Bespoke Investment Group.
If you were looking for more downside action in stocks, yesterday's action should have changed your mind. And if you look back to Wednesday's session, you can see the clues forming that would point to the broad-market bounce.
"Believe it or not, today is the single most important trading session of 2014," my trading buddy Jonas Elmerraji told me (and his premium readers) Wednesday afternoon. "In fact, it's the single most important session since last summer."
It was a surprising statement — especially when you consider the fact that the S&P 500 only moved a measly 0.2% on the day. But it was Wenesday's hold at support that caught his eye…
"Right now, we're seeing a confluence of factors that indicate a bounce (and a buying opportunity) is likely," Jones explained. "The S&P 500 is still unquestionably in an uptrend. The same exact market model that tipped us off back in October that we'd see a meaningful January correction is pointing towards a bounce. And sentiment is reading in 'extreme fear', the exact same reading we got the last 3 times the broad market bounced higher."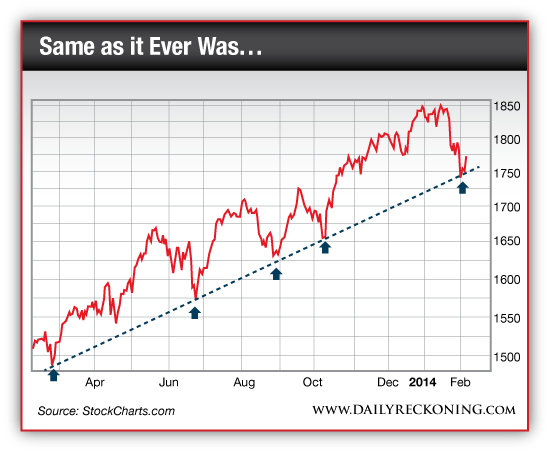 "When the market opened Wednesday," says Jonas, "it moved down dramatically, but buyers stepped in to bid shares up over the course of the session."
Wednesday's reversal paved the way for yesterday's big bounce. 
As you can see from the chart, the results so far are nearly picture-perfect.
If you have been dabbling on the short side of this market, this is your cue to cover and look for potential bounce plays. This market is set to steamroll those who are slow to adapt…
Regards,
Greg Guenthner
for The Daily Reckoning
P.S. In this morning's Rude Awakening I gave readers a chance to discover one trade Jonas is hot on the trail of that could trigger any hour now. To make sure you can access great investment opportunities like these, sign up for The Rude Awakening, for FREE, right here.