Small-Caps: The Stocks that Buck the Uptrend
If you want to figure out where the broad market is headed over the next few weeks, there's just one chart you have to monitor.
But first, let's check in on the snapback rally that helped bounce stocks off critical support levels…
The S&P 500 jumped a total of 2.6% Thursday and Friday in a make-or-break rally, while the Dow Industrials added 2.3%. After a decidedly sluggish start to the year, stocks are back in action thanks to a convincing two-day performance. The VIX — a popular volatility gauge — slammed against its 2013 highs and came crashing back down, suggesting a meaningful bounce is now in the works.
However, there's one group of stock that aren't playing ball: small-caps.
Yes, The Russell 2000 small-cap index finally bounced Thursday and Friday. But it underperformed both the Dow and the S&P, rising just a little more than 2% over the two-days in question.
More importantly, the Russell is now below its uptrend that had remained intact since late 2012. And the index remains stuck below this level — even after last week's rally…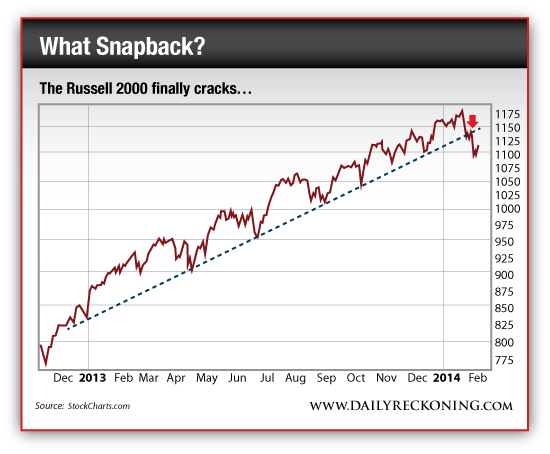 You need to watch this chart closely over the next couple of weeks. If the Russell fails to recapture its momentum, small stocks could continue to underperform the broad market. It's even possible that small-cap weakness drags its large-cap cousins lower…
That said, the Russell's poor relative performance is not an excuse to get overly bearish. In fact, I've discussed the possibility that small-caps might begin to underperform their larger counterparts a couple of times over the past few months. Investors have gotten more defensive so far this year — so moving away from small-caps (even if it's temporary) makes sense.
If the Russell retests the 1,140's and falls lower, you could have a good shot at a Russell 2000 iShares (NYSE:IWM) trade on the short side. That's a play worth waiting for.
Regards,
Greg Guenthner
for The Daily Reckoning
P.S. In this morning's edition of The Rude Awakening, I showed readers 5 numbers to watch and a quick rundown of one of the most important trends I'm seeing right now. If you didn't get it, not to worry. I'll be back tomorrow morning — and every trading day — with another update on everything I'm seeing in the markets right now. Sign up for FREE, right here, to make sure you get it before it appears on The Daily Reckoning website.