A Better Way to Play Gold's Upswing
Gold's price action is beginning to look much healthier. But if you're going to throw some money at this emerging trend, there's only one way to play it…
Buy the miners.
For the record, I think gold is looking much healthier this year. After bottoming out on the last trading day of 2013, the yellow metal hasn't looked back. It has risen from a low of $1,181 in December to $1,283 in early trading this morning. The hard work is finished. You should look for gold to make a go at $1,300 soon (it hasn't topped this price since November).
However, gold mining stocks are where you'll see the most profit potential.
Miners are just now beginning to recover from severe oversold levels. It's no secret investors have beaten miners into a pulp for the past 18 months. Since late 2012, the gold mining sector plummeted more than 60%. In fact, it wasn't until January before miners began to show any signs of life at all…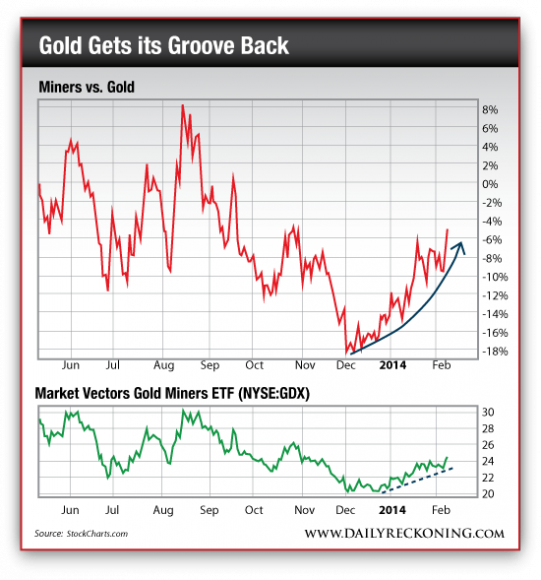 I love trades that are no-brainers — the huge, obvious moves that are impossible to ignore. Even after underperforming gold last year, the miners are beginning to turn it around. Like the metal, they bottomed out just before beginning of 2014. And since January 1st, miners have outperformed the metal by more than 10%.
If you want to ride this wave, consider buying the Market Vectors Gold Miners ETF (NYSE:GDX). This name broke out above $24 yesterday, setting up a potential run toward an even bigger breakout north of $26…
Regards,
Greg Guenthner
for The Daily Reckoning
P.S. In this morning's Rude Awakening email edition, I gave readers the chance to discover an even more explosive way to play this trend. If you didn't get it, you're missing out on a slew of great opportunities like this, every single trading day. Not only that, in each issue, you'll get a quick and dirty rundown of the markets, a host of trends I'm currently following and 5 important numbers to watch throughout the day. And you'll get all of this in one simple email, completely free. So don't wait. Sign up for the FREE Rude Awakening email edition, right here.