Selling the Comeback in the US Auto Industry
Detroit is finally getting its act together.
General Motors and Ford are making cars consumers want to buy again. These great American companies have risen from the ashes, surviving bankruptcies, government bailouts and two decades of Japanese and European dominance of the American car market.
That's why it's time to sell these stocks.
Do not adjust your monitor — you read that last statement correctly. GM and Ford are cranking out quality vehicles and profits. Sell 'em and move on to other opportunities.
There's a method to this madness, of course. First, the rebirth of the American auto manufacturer is a story that has reached its apex. In short, the comeback story is getting stale. It's baked into the price of these stocks. And right now, price is telegraphing some very important information…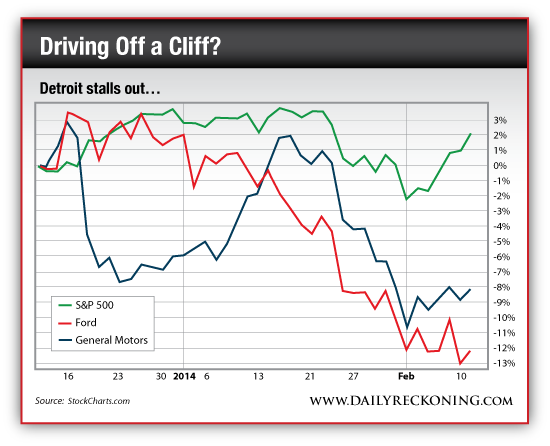 Over the past two months, The S&P has cranked out a small gain of 2.1%. But over this same timeframe, Ford has fallen more than 8%, while General Motors has dropped more than 12%.
The relative weakness of these stocks was punctuated last week with GM's fourth-quarter earnings release. General Motors posted higher profits, yet failed to meet analyst expectations. Revenue also missed the mark. Investors sold the news, dropping the stock another 3% before the market even opened…
Investors' reaction to the earnings report — along with the recently swooning share prices of both Ford and GM stock — tell you the easy gains have passed you by. The time to hold these stocks was when everyone assumed they would fail. Now, you need to take your money off the table.
Of course, I don't think all automakers are ripe for a plunge. Tesla Motors appears to be gearing up for a go at $200.
Regards,
Greg Guenthner
for The Daily Reckoning
P.S. In this morning's Rude Awakening I gave readers a chance to get in on one research service that has been recommending Tesla since it was a measly $20 per share. And that's just one opportunity I gave my Rude readers… I also showed them 5 numbers to watch, a rundown of my favorite trends right now and 3 specific chances to discover real, actionable investment advice. If you're not getting the free Rude Awakening, you're not getting the full story. Sign up for FREE, right here to change all that.