An Unsinkable Investment
Exactly one year ago this week, a fire crippled a Carnival cruise ship in the middle of the Gulf of Mexico. The stranded passengers endured power outages, food shortages and a paralyzed plumbing system. It was days before authorities were able to tow the ship to land.
The stranded ship in the Gulf was just the latest in a chain of unfortunate events in the cruise ship industry. It also served as a strong buy signal for many of the major cruise line stocks…
That's right — if you bought some of these cruise ship stocks just one year ago while the media played images of helicopters dropping food and supplies to a stranded party boat in the middle of the sea, you could have easily beat the market…
Ignore the dismal headlines. From a public relations standpoint, major cruise lines have gotten knocked down more than a couple notches over the past year. But that doesn't mean they aren't good investments. The big three lines – Royal Caribbean, Carnival and Norwegian – are all outperforming the S&P this year.
And that's after they enjoyed a solid 2013 — sinking ships, power outages and broken toilets be damned!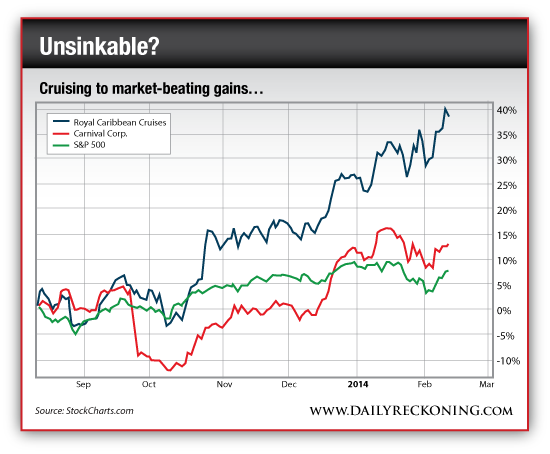 Cruise Lines International Association said its 63 member lines are actually expecting a positive growth year for 2014, with passenger numbers rising year-over-year from 21.3 million to 21.7 million.
"Even with all the cruise ship disasters in the news, global cruise companies are expanding furiously, adding newer and bigger ships to their fleets," explains Rude Awakening researcher Noah Sugarman. "In 2014, 16 more ships than a year ago dot the waters. In the next two years, another 24 ships worth $8 billion combined will be built, able to carry an additional 37,546 passengers. All in all, 167 new ships have been added since 2000."
And this planned expansion is happening for good reason. According to Cruise Market Watch, passenger volumes are projected to grow at a compound annual growth rate of 7% through 2018. Looks like the power outages and lack of working restrooms isn't scaring anyone away from a vacation at sea…
Regards,
Greg Guenthner
for The Daily Reckoning
P.S. In today's Rude Awakening, I gave readers a chance to discover the best cruise ship stock chart I've found. It's just one small benefit of being a reader of the FREE Rude Awakening email edition. In fact, in addition to this great opportunity, readers were also treated to my favorite trend right now, 5 numbers to watch and 3 other specific chances to discover real profit opportunities. If you're not getting the Rude Awakening, you're not getting the full story. Sign up for FREE, right here to get started.