A Surprising Sector That's Dominating the Market
Airline stocks are dominating the market.
Over the past six months, the Dow Jones US Airlines Index has trounced almost every single sector out there. As a group, the airlines are up more than 55%, compared to an 8% gain in the S&P 500.
That's some impressive performance…
"The US airline industry is entering its fifth consecutive year of forecasted profitability, the second longest post-deregulation stretch on record," comment JP Morgan analysts. "Truthfully, we're running low on ideas as to what could derail current prosperity in the near term, save for exogenous, black swan events."
Hmm…
Statements like this get me thinking that maybe it's time to start looking for cracks in the airlines' armor. Is everyone too bullish on these stocks right now?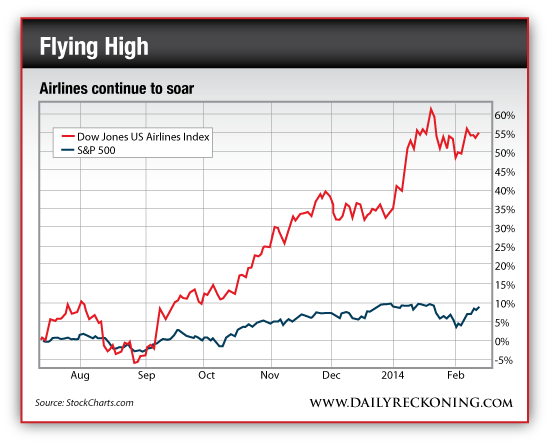 Now, I wouldn't go out and short any of these airline stocks. That's crazy. You fight the trend and you're going to get burned. In fact, it's no secret that I've been bullish on the airlines since last year when they started breaking out. But even with horrible weather grounding countless flights this winter, the news has remained decidedly bullish on these stocks.
Are these the hallmarks of bullish sentiment hitting an extreme? It's possible…
After a huge year in 2013, volatility might return to the airlines. That's something worth watching in the days and weeks ahead…
Regards,
Greg Guenthner
for The Daily Reckoning
P.S. If you're looking for what could be the next long-term uptrend, all you have to do is look to another hot sector – one that my friend Byron King has been following closely. Byron, our in-house Harvard-trained geologist and former Navy Pilot, has had an amazing hot streak calling the market's next big time opportunity. He called the rare earth metal squeeze of 2010, showing his readers gains of 177% and 109% in short order. And this morning, I gave readers of my free Rude Awakening email edition a chance to benefit from Byron's latest research. If you didn't get it, you missed out. But don't worry… You can sign up for The Rude Awakening for free, right here, and make sure you never miss out on another great opportunity like this.