Natural Gas Leaves Oil in the Dust
The polar vortex isn't just wrenching your back from shoveling all that snow — it's also decimating your heating bill.
The cold, crappy weather throughout much of the country has helped natural gas break out of a five-year slump that has seen prices fall from close to $14 to a low of $1.90 in 2012. But back in the fall, traders flipped the switch to "buy". The result? Natty is up more than 64% over the past three months alone…
But what about oil? Turns out, black gold is looking downright sluggish. Oil's up more than 4% year-to-date. That easily bests the broad market — yet falls way short of the natural gas rally.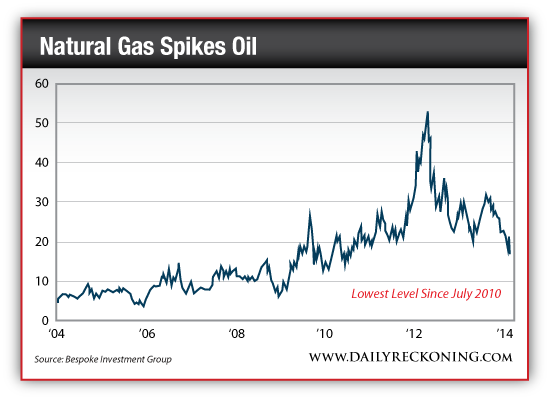 "While natural gas prices have been rallying, the move in crude oil has been much more muted," explain the folks over at Bespoke Investment Group. "As a result of the wide gap in the performance of the two commodities, the ratio of crude oil prices to natural gas has narrowed considerably this year to a current level of around 16.5, which is the lowest level since July 2010. While the ratio is down considerably from the beginning of the year when it was at 23, and well off its record high of just under 54 from the Spring of 2012, as you can see in the chart, the last few years have been more of an anomaly than the norm. For example, from 1990 through early 2010 the ratio only broke above 20 once."
The million dollar question is whether we are truly seeing a return to a "normal" oil to natural gas ratio like we saw during the previous two decades. It's tough to tell this early. It's possible that natural gas maintains its recent breakout. Even so, I do think natty is due for a pullback phase to consolidate and digest its recent gains.
Regards,
Greg Guenthner
for The Daily Reckoning
P.S. As the US begins to thaw, a retreat in natural gas prices could help set up more than a few profitable trades. In this morning's Rude Awakening email edition, I gave readers a chance to discover my favorite play in this sector – one that's been on a tear recently. If you didn't get it, don't worry. I'll be back every single trading day, right around the opening bell, to give you a quick rundown of what I'm seeing in the markets, and at least 3 chances to discover real profit opportunities in every issue. Sign up for The Rude Awakening, for FREE, right here, to get started.